Palo Alto Stanford Heritage
---
Demolished Structures
---
This large Spanish Colonial Revival house was a Category 4 on the Historic Resources Inventory. It was built in stages between 1923 and 1929.
As of March, 2016, there is no replacement home.
---
Questionable Demolition!
Demolition of one of two Eichler commercial buildings at Edgewood Plaza was announced in the Palo Alto Weekly. Read more.
---
611- 617 Cowper Street
The photos below were taken May 19, 2013 and May 25, 2015.
---
225 Lincoln Avenue
Gone!....225 Lincoln. The cottage was run down, but it had a lot of charm. It was probably built in 1909 as a studio for Cora Kimball who lived across the street. She had many houses built in Palo Alto and often by Gus Laumeister. You can read more about this Category 3 on the Historic Inventory. The Craftsman style of the replacement home reminds us of it.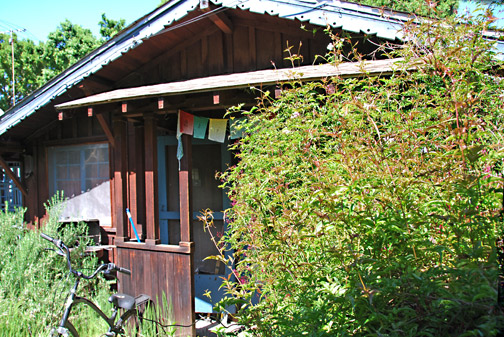 Original home


Replacement home
---

1112 High Street
Deconstruction / demolition began Feb. 5, 2011 on this house at 1112 High Street. The replacement house went on the market in January 2012.
---

Demolition in Professorville: 405 Lincoln
The 2011 razing of a 1920's house at 405 Lincoln and replacement with a very contemporary dwelling was the force behind the creation of a Professorville Design Guideline Committee. With few exceptions, most owners in the Professorville Historic District have chosen to maintain their contributing houses or to rebuild in styles that are compatible with existing homes, such as at 225 Lincoln Avenue. There are many neighborhoods which have either always been eclectic, Downtown North, for example, or have been so altered in the last building boom as to have lost much of their original character (many parts of Old Palo Alto, or College Terrace, for instance). PAST questions whether it is appropriate to place such an avant–garde structure in a neighborhood that is so proud of its origins and respectful of its cohesiveness.
Original home:


Replacement home:
---

257 Churchill Avenue
Demolished April, 2011. See more photos.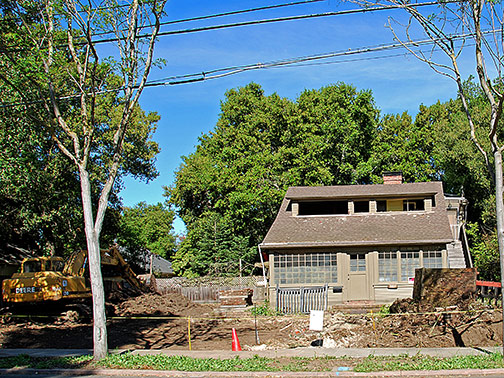 ---

Juana Briones House
The 1844 Juana Briones house is no more. It was listed in 2010 by the National Trust for Historic Preservation as one of the 11 Most Endangered Historic Places. The September/October 2011 issue of Preservation magazine includes a picture of the historic home with its long porch overlooking the original acreage. The Deconstruction was completed and auctioned on June 29. The Friends of Juana Briones and PAST were able to purchase one of the two sections of the oldest walls that were preserved. Thanks to all who stepped in to accomplish this last minute effort. The City of Palo Alto has committed to providing safe storage until it is unveiled as a proper monument to Juana's Casa. See some of the last photos taken of this historic house!
---
318 Middlefield Road
Most of the original homes built in Palo Alto have been lost, but luckily, the families of some owners saved pictures of their houses for futures generations. Read about this one at 318 Middlefield Road. The new house is probably the third one at that location.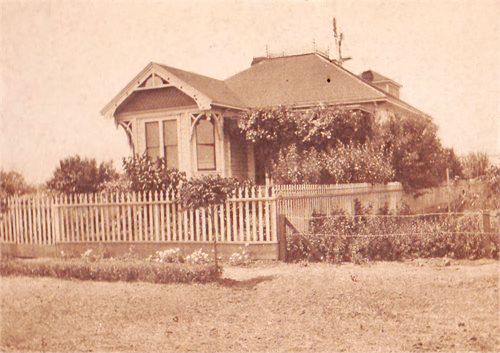 ---
Spring 2010: 171 Everett
In 2010, the house at 171 Everett Avenue was on the list to receive a centennial plaque. . . but was still under construction in June 2010!
---

Winter 2010
This small house at the corner of Ruthven Avenue and Cowper Street is gone.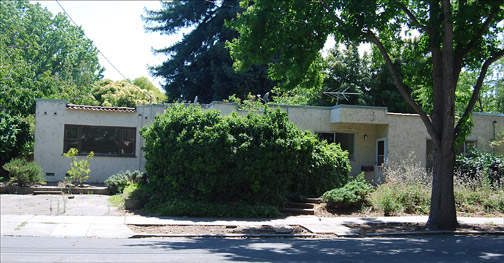 ---

609 Alger
January is not a slow time for demolitions. While the next home is not historic, this Stern and Price home is very representative of tract housing of the 1950s. Built in 1952, it served its residents well until January 2010. Some cosmetic up–grades have been made in recent years, but the original built-in ironing board was still there!
It was surprising to see how much effort went into leveling this house. It wasn't exactly a pushover! Another similar house, but enlarged, on East Meadow was demolished at the end of December, 2009.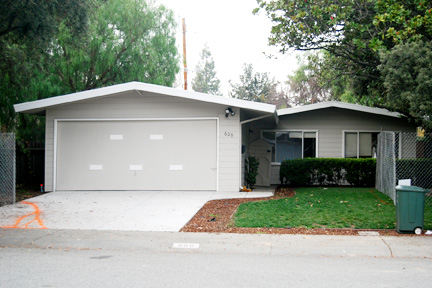 Street view

Back yard

Entry patio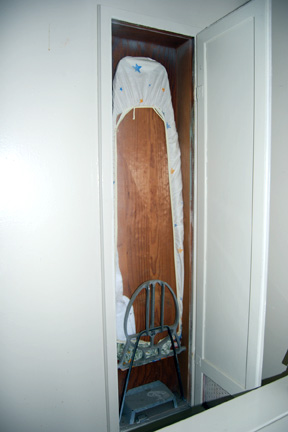 Hidden ironing board in kitchen.
The metal box at the bottom provided safe storage for a warm iron.
Here today, gone today! January 13, 2010.

The living/dining room is gone except for the fireplace.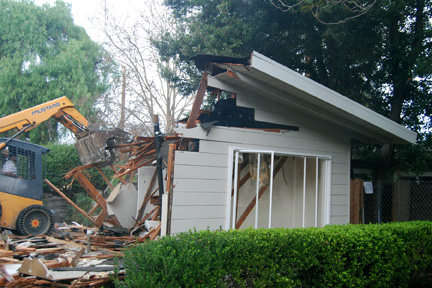 A bedroom and bathroom are all that is left..

Only the redwood rubble remains.
---

Summer 2009
It was over 100 years old and a charmer that had been relocated south of Colorado in 1949. Check out 2950 Ramona Street!
Who remembers what was here?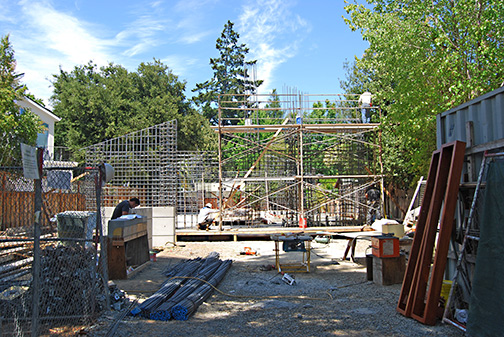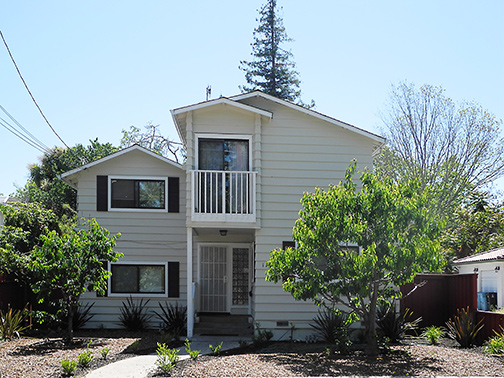 A new home at 179 Cowper Street is surrounded by homes built in the earliest years of the 20th century. Photos of those early houses at north end of Cowper Street can be found on the Centennial Houses page.
---
310 Seale Avenue: January 2009
This block of Seale Avenue had some really nice Old Palo Alto homes at one time that reflected what Old Palo Alto used to be—simple, charming, well maintained family homes with a really nice neighborhood feel. This particular group was lived in by various members of a well-known family that still has ties to Palo Alto.
---

330 and 336 Seale Avenue, smaller, but with lots of charm.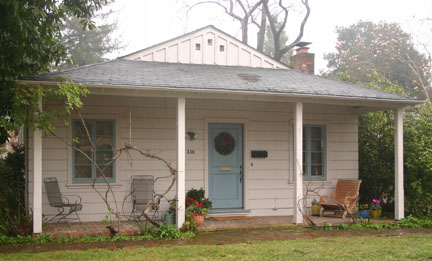 ---

October 2008 and Earlier
Demolitions happen fast! Most houses were gone before a picture could be taken.
1365 Parkinson Avenue — Photos taken July 2002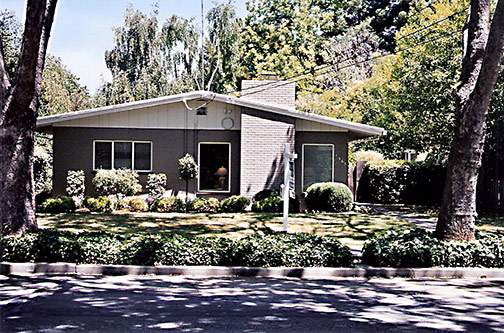 ---

548 Barron Avenue — Photos taken October 10; permit issued Sept. 30, 2008.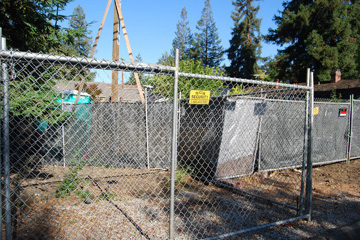 ---
3864 Corina — Photos taken October 10, permit issued September 24, 2008
see more photos
---
640 Santa Rita — Photos taken October 9; permit issued September 22, 2008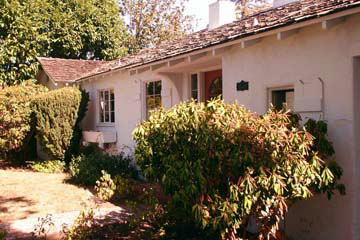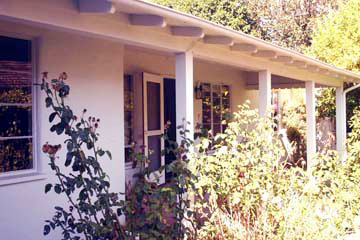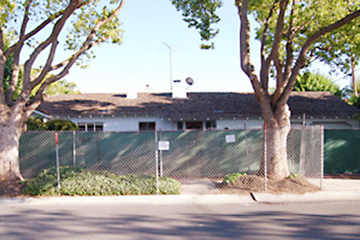 ---

2296 Saint Francis Drive— permit issued September 15, 2008 (no photos)
---

E-mail us at either webmaster@pastheritage.org or president@pastheritage.org.

Palo Alto Stanford Heritage—Dedicated to the preservation of Palo Alto's historic buildings.