Palo Alto Stanford Heritage
---
---
Juana Briones House
---
January
Exhibit at California Historical Society opens with prominent display of the section of wall saved from demolition of her house. Many of the historic photos included here, were enlarged for the exhibit.
August
The latest news about the section of wall from Juana Brione's house seen above right, which was purchased by The Friends of Juana and PAST comes to us from PAST member, Clark Akatiff:
In January, 2014 The California Historical Society in San Francisco mounted an exhibition of The Story of Juana Briones. This was a bi–lingual presentation that included artifacts and displays from her life and home. It was the intention of the curators, under the direction of Professor Al Camarillo, to display the remnant wall as a centerpiece of the exhibit.

These children were on a field trip to the Juana Briones house at an unknown date. Are you in the picture? Let PAST know.

---
November
From Clark Akatiff of Friends of Juana Briones:
Election day in Palo Alto was an unusually warm and sunny day, and in addition to voting, I visited the Juana Wall where it is stored to assure myself of it's safety. I was happy to see it well protected, and covered with a strong white tarp. The first rains had come and left some puddles in the low points of the covering, which I carefully drained. I then folded the tarp back to inspect the wall itself and found it in good shape, and although there had been a little seepage through the puddled areas of the tarp, it was only to the plywood encasement and not the wall itself. I then spent time recovering the artifact, being careful to maintain [its covering]...
As the winter comes on, it will be good to keep an eye on this. Although protected, it could be damaged in a severe storm.
Our greatest hope is that the Wall will be moved to San Francisco where it will stand as the central piece in a display the California Historical Society will be making about Juana Briones. Professor Al Camarillo has been principal in this effort. If it comes to pass, it will be a great step forward, and there is good reason to believe it will happen. In the long run we expect the wall to be here in Palo Alto, most likely in the History Museum.
The legend of Juana Briones grows by the year. All of us engaged in the long lost cause of saving the Casa, can take heart in the fact that though we lost the house, we saved the persona and advanced La Causa.
Clark Akatiff
PS: The site of the original casa was sold in July for $2.9 M.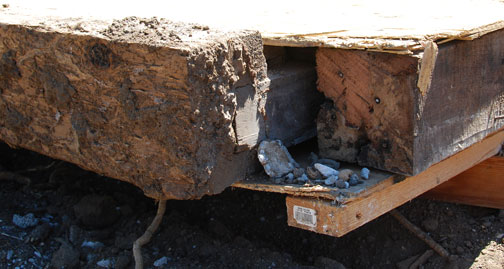 PAST and other friends of Juana Briones were successful in the effort to secure donations of the funds needed to purchase a section of rammed earth wall. The City of Palo Alto is storing it until it can be displayed.
May - June 2011
A careful deconstruction began in late May with the final result being an auction of salvaged materials on May 29. Two sections of the rammed earth wall were carefully set aside for preservation and eventual display.
(Photos taken June 30, 2011)


Deconstruction of Palo Alto's oldest home, the Juana Briones house, began in late May. (Photos taken May 30, 2011)

June 29, 2011 — Public auction of salvaged materials

June 28, 2011 — Deconstruction complete

May 20, 2011 — Deconstruction begins. The following links are to articles in the local press. As of April 26, 2016, they still connect.
http://www.mercurynews.com/peninsula/ci_18142561?nclick_check=1

http://www.indybay.org/newsitems/2011/05/26/18680485.php

http://www.paloaltoonline.com/news/show_story.php?id=21234

The pictures below were taken by Clark Akatiff.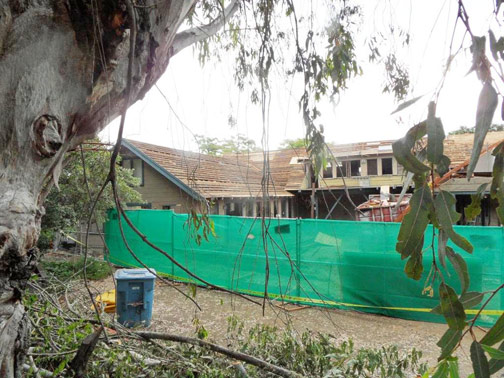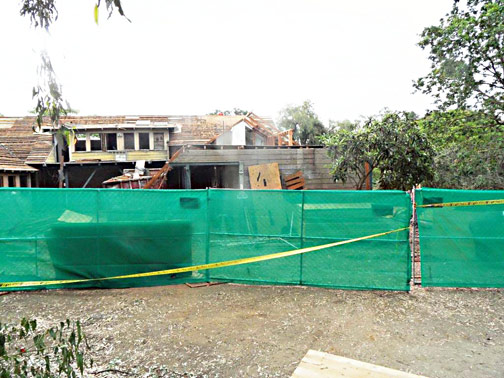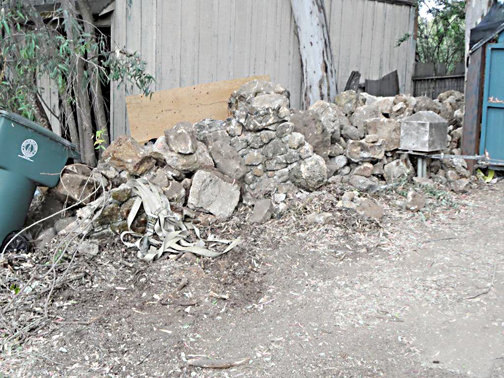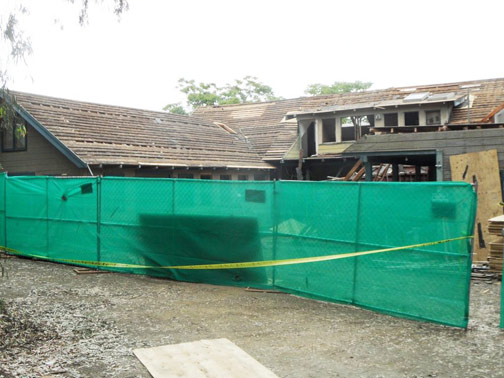 Preservationists made every effort to restore the house and land for public education of the histories of people, art, architecture, geography, archaeology, and land use as they have evolved over the years from Indian times to the present. California's importance to the nation and the larger region reflects strongly in this site.
Read the article from the November 30, 2010 San Francisco Chronicle.
---
This is what the National Trust for Historic Preservation has to say about tear downs:
Across the nation a tear down epidemic is wiping out historic neighborhoods one house at a time. As older homes are demolished and replaced with dramatically larger, out-of-scale new structures, the historic character of the existing neighborhood is changed forever. The National Trust for Historic Preservation believes historic neighborhoods can and should be protected from tear downs, through a variety of tools and approaches that manage this type of growth. Because there is no "one-size-fits-all" solution or "magic bullet" that will stop tear downs, communities should expect to use a combination of tools.
Read more from the National Trust.
The headline of the linked article appears gloomy, but the information that the owners may sell is positive. Preservationists are making every effort to reinforce the probability that donors will recognize this rare opportunity. PAST and other groups visualize buying, restoring, and using the house and land for public education in many facets of the histories of people, art, architecture, geography, archaeology, and land use as they have evolved over the years from Indian times to the present. California's importance to the nation and the larger region reflects strongly in this site. Preservationists anticipate recognizing this as a place of interest far beyond the local.

Read the November 30 article from the San Francisco Chronicle.
May 2010
See the CBS5 news story that aired May 19 and features Scott Smithwick, our new president

Two You Tube videos that deserve a a look. . .

Juana Briones Story excerpts from the May 19 announcement regarding the placement of the Juana Briones House on the list of 11 Most Endangered Places by the National Trust for Historic Preservation Featuring PAST members Karen Holman, Grace Hinton, Jeanne McDonnell, and Scott Smithwick and Elaine Stiles, NTHP Program Office, SF Bay Area and Ruben Abrica from the East Palo Alto City Council.


Photos of California's Juana Briones House
1812 - The Briones family moves to the Presidio in San Francisco
1832 - Juana establishes a prosperous dairy at La Play a de Juana Briones (now North Beach in San Francisco)
1844 - Juana purchases La Purisma Conception, a 4,400 acre ranch from Indians and constructs original 3 room adobe house
1856 - Juana wins legal battle in the US Supreme Court to keep her property
1889 - Juana dies while living in nearby Mayfield
1900 - Juana's daughter, Refugio, sells the property to a Stanford botanist, Charles Nott
1924 - Property purchased by Dr. George and Edith Eaton
19505 - Tom Hunt, a Stanford student and artist, moves into the rear cottage
1985 - Descendant of Dr. Eaton, Susan Kirk, inherits the property and Tom Hunt inherits his life interest (cottage, water tower and approximately half the land)
1986 - Susan Kirk takes out a Mills Act Contract and provides access for public tours 20 days per year for the Women's Heritage Museum
1993 - Susan Kirk forced to sell the property and public access ends under the new ownership
1997 - Property is sold again to the current owners but property is never occupied and was left to deteriorate
April 2010
A group of Stanford students, both undergraduate and graduate, has worked to establish the Juana Briones Archive in the Department of Special Collections at Green Library. The Juana Briones Archive is of unique local importance as both the current exhibit and as a permanent resource. The current exhibit in the atrium of Green Library at Stanford includes materials from the collection which were donated from former members of the Juana Briones Heritage Foundation.
February 2010
PAST board member, Jeanne McDonnell will make a presentation about the Briones House at the monthly meeting of the Santa Clara County Historical Heritage Commission, Feb. 18, 2010.
January 2010
Saving the Juana Briones house on Old Adobe Road has been a very long endeavor. At one time, a descendant of only the third owner of the house permitted docent-led tours 20 days a year. Now this historically valuable house at 4155 Old Adobe Road stands abandoned, with doors and windows broken and open, the yard entirely untended.






Some local residents are applying to the National Trust for Historic Preservation for the property to be put on their

11 Most Endangered Historic Properties

list for 2010. The Juana Briones Heritage Foundation made a similar request in 2000, unsuccessfully. Twice the courts have ruled that the owners are required to have an Environmental Impact Report done, but the owners continue to return to court about it.




The National Trust asks for three letters of support, which will be supplied by Grace Hinton, President of PAST, Douglas Graham, President of the Palo Alto Historical Association, and Yoriko Kishimoto, former Mayor of Palo Alto. In addition, a list of supporters will accompany the application, including Michael Griffith, President of the Board of the Institute for Historical Study and Head Archivist of the Santa Clara County Archives, Albert Camarillo, Professor of History at Stanford ,Allison Kimmich, Executive Director of the National Women's Studies Association.






Those of us who are attempting to save the house believe it should be in public ownership so that schoolchildren and the general public would have the opportunity to learn in a very real and direct way about Indian, Hispanic, America history, as they overlapped and influenced each other.


The house was constructed in 1844 by a woman born in 1802 in Santa Cruz, California a woman called "the pre-eminent woman of Hispanic California" in 1957 by the noted historian, J. N. Bowman.


Jeanne McDonnell text, Melissa Blum, photos

---
On Sunday, October 11, there was a rally to remind Palo Alto and the owners that we are very concerned about the Juana Briones House. The current situation with the house is that the owners have allowed its condition to deteriorate. The house has a lot of graffiti and broken windows. The purpose of the rally was to point up these issues and voice our concern.

The Nulman's (owners) are doing "demolition by neglect" in the hope that the building will be unsalvageable and therefore have to be torn down. Many building codes prohibit property owners from leaving their properties open to the environment, because it is seen as an endangerment to the public. Even with foreclosed properties in San Jose, code enforcement officers are currently driving around and requiring owners to plywood and secure doors/windows. Also, this resource is on the California State Register as a California State Landmark.

Students of Stanford Professor Carol McKibben are compiling a Juana Briones archive. If anyone has anything to contribute, please email her at mckibben@stanford.edu.

---

Saving the Juana Briones is one of PAST's advocacy items. We continue to work with the Friends of Juana Briones in their effort to preserve Juana's residence at 4155 Old Adobe Road. The owners have appealed the decision not to let them demolish this special structure, and the Friends' attorney has submitted a response. The next court hearing regarding the Environmental Impact Report will be no earlier than November, and perhaps later. A decision should be rendered by the end of 2009. In the meantime, we continue to request that the city enforce its own laws against letting a building deteriorate while the process continues.

---

One of the treasures in the historical archives is an album of photographs of the Juana Briones house taken between the 1880's and 1960's, showing some of the residents, all unidentified, how the house looked and how it evolved in more current views. Quoted captions are from the scrapbook and photographs identified as "courtesy of M. Eaton", refer to a previous owner, Margery Eaton, actress.
---
"No. 1 1925, or shortly thereafter. Aerial photo taken in a southerly direction. The lane leads to the house in the center of photo. No road continues over the hill.
Courtesy M. Eaton"

"No. 2 Taken in a northerly direction. No remnants of a trace extending beyond terminus of lane. The boundary of Refugio Miranda-Mesa's 40.10 acres show very distinctly.
Courtesy M. Eaton"

"No. 3 September 1969. Exterior of south wall; concrete fireplace chimney base."

"No. 4 Taken Dec. 16, 1962 by San Jose Mercury-News. Interior of south wall and concrete fireplace."

"No. 5 September 1969. East wall and porch. Looking toward dining room entry."

"No. 6 Note horizontal 'shadows' and diagonal cracks."

"No. 7 September 1969 "Southeast corner."

"No. 8 September 1969 West side facing the patio. Center door leads into the 'middle room'; door on far left to the kitchen wing."

"No. 9 ca. 1962. South end. Shows uniformity of modern mill work.
Courtesy M. Eaton"

"No. 10 Original is a blue and white print taken in the 1880s or early 1890s. East side. The attic entrance appears to have been more solidly enclosed--without windows.
Courtesy M. Nott Ginsberg."

"No. 11 Original blue and white print, same date. West side from the northwest. Old cook shack is discernible on far right. Lean-to had not yet been built.
Courtesy M. Nott Ginsberg."

"No. 12 February or March 1901. West side from the southwest.
Courtesy M. Nott Ginsberg."

"No. 13 Late spring or early summer 1903. Southwest corner. Siding between corner and the door has been rotated 90 degrees; a horizontal window substituted; and standpipes added for plumbing.
Courtesy M. Nott Ginsberg."

"No. 14 Same date. A new kitchen lean-to on the north end of the west side. Is the cook house still in existence (far right)?
Courtesy M. Nott Ginsberg."

"No. 15 'North room". ca. 1905. Door on the west side opening into new kitchen lean-to.
Courtesy M. Nott Ginsberg."

"No. 16 East porch, 1905. Note three windows to the 'north room'. compare with present day frames, uniform heights, and ceiling finish. Door at end of porch at this time was entry to the attic stairway.
Courtesy M. Nott Ginsberg."

"No. 17 Taken April 5, 1963 by San Francisco News-Call Bulletin. Rock wall encloses fourth side of patio. Four chimneys are surfaced alike. Note original chimney now is on the east slope of roof."

"No. 18 Summer 1901, east side of house. Note Miranda barns on the south slope.
Courtesy M. Nott Ginsberg."

"No. 19 About 1917, east side of house. Lumber from razed barns used to build this barn on northeast slope.
Courtesy M. Nott Ginsberg."

"No. 20 Early spring 1903. East side of house.
Courtesy M. Nott Ginsberg."

"No. 21 Early spring 1903. East side of house.
Courtesy M. Nott Ginsberg."

"No. 22 Early spring 1903. Shows details of the south end. The window which had been created on the south is to far left.
Courtesy M. Nott Ginsberg."

"No. 23 Early spring 1903. Shows details of the south end. The window which had been created on the south is to far left.
Courtesy M. Nott Ginsberg."

"No. 24 About 1905, brick fireplace in 'middle room.'
Courtesy M. Nott Ginsberg."

"No. 24a About 1905, southwest corner of 'north room', or other side of bookcase wall in 'middle room'. Example of the burlap wall covering. This has now all been altered by addition of stairs.
Courtesy M. Nott Ginsberg."

"No. 25 About 1908 Exterior tamped earth north wall exposed when the attic stairway and annex were removed for the new dining room addition.
Courtesy M. Nott Ginsberg."

"No. 25a
dining room
Courtesy M. Nott Ginsberg."

"No. 26 Taken 1962.
Courtesy M. Eaton."

"No. 27 Taken 1962. East side, shows final window arrangement and the finished dining room addition.
Courtesy M. Eaton."

"No. 28 About 1932, taken from the north.
Courtesy M. Nott Ginsberg."

"No. 29 About 1905, interior of southeast corner.
Courtesy M. Nott Ginsberg."

"No. 30 September 1969. Illustrates the post-adobe illusion."
Learn about the life and times of Juana Briones, one of the earliest settlers in what became Palo Alto. Jeanne Farr McDonnell, author of Juana Briones of 19th Century California spoke to the Palo Alto Historical Association (PAHA). A video of the October 2008 program is available at the PAHA Archives, Room K-7, Cubberley, 4000 Middlefield Road, Palo Alto, open Tuesdays, 4 to 8 p.m. and Thursdays, 1 to 5 p.m.
PAST Moral Support and Funding
From the Juana Briones Heritage Foundation:
It is very gratifying to all of us who care about preserving the house and the many messages that building conveys about early Californians that Palo Alto's preservation organization, PAST, donated $4000 originally to help with legal costs, and now has committed more in matching funds. Donations, up to a maximum total of $5,000, will be doubled by PAST if made before December 31. Make checks payable to PAST, and write "Briones" on the For line. Mail to P.O. Box 308, Palo Alto 94302. Corporations that match employee contributions often require a street address, and in that case, PAST has an office in the Museum of American Heritage at 351 Homer Avenue, 94301.
Funds now will contribute to preventing the demolition of the house, and in the best case scenario, will contribute eventually to public ownership so that the building's very strong sense of past melding into present will again be widely available.

---
Things Are Looking Up
Sent: Thursday, June 05, 2008 1:14 PM
Subject: Briones case today


Dear Friends of Juana Briones and her house

Judge Leslie Nichols heard the case today, by which Susan Brandt-Hawley spoke for those who claim that many facets of the structure itself and what it represents are too important to California and world history to allow it to be obliterated. The attorney who spoke for the Nulman-Welczer case mentioned frequently the name of Judge Herhily, whose judgment allowed the City of Palo Alto to issue a demolition permit. The heart of the case against demolition appeared to be that no rulings by judges or cities may take precedence over California State law, which mandates an Environmental Impact Report. As soon as the Judge issues his opinion, I will forward that information to you.

Clark and Kathy Akatiff and Tony Cisneros have orchestrated a rally in San Jose, where we would like to see fostered a wider knowledge and appreciation of the value of this property to public understanding of California, and indeed of the nation. On stage will be the mariachi band will be on stage that played at the dedication of the state historic plaque for Juana Briones on Old Adobe Road in Palo Alto. Juana herself was born into a society with a strong oral tradition. A gathering like this in the park very much honors that tradition, giving us all time to share our feelings and ideas about a past that has contributed mightily to our present and will keep contributing to our future. The time is 1:00, at St. James Park, across from the very courthouse where the case was heard today. There is ample free parking all around the park, and the area will not be crowded on Saturday when the courts are not in session. Do come and encourage others to come to learn more and to show support.

Ruben Abrica, who was a member of the board of the Juana Briones Heritage Foundation and who was at the court today and for the last hearing, has given an open invitation to the California History Center at De Anza College on Monday, June 9, from 10:30 to noon for a special program on the Juana Briones Oral Literature Project. The Center is across from the Sunken Garden. There will be a brief talk by me about the biography I have written of Juana Briones that will be out in September, published by the University of Arizona Press. There will be presentations by students from the Chicano/a Literature Class and information from Instructor Abrica about the progress of the Oral Literature/History Project started in 2007 and dedicated to Juana Briones. For more information about this, contact rubenxl@aol.com or call him at 650 321 4001.

Jeanne McDonnell
---
Commemorative Marker Dedicated November 1, 2007
Dear Friends of Juana,

Please join us Thursday November 1 at Esther Clark Park, to formally dedicate the new State Historical Marker No. 524 commemorating the life and land of Juana Briones.

November first is the Dia de los Muertos (Day of the Dead) when, in Mexican tradition, departed ancestors are remembered and celebrated. It is in the spirit of this holiday that we will celebrate the heritage of Juana Briones.

We will assemble at the new monument at the end of Old Adobe Road in Palo Alto at 3:00 in the afternoon. We hope to have Mexican music and dance, food and drink for all to enjoy as well as displays of details of Juana's life and home. .

This celebration represents a turning point in the long struggle to celebrate and honor the memory of this Latina Pioneer and especially to preserve the Juana's home which is located a few hundred feet from the monument. The Juana Briones Heritage Foundation, which carried the burden of the cause for many years, has dissolved as a non-profit corporation, but that does not signify an end to the issue. In its place the local historical society PAST has come forward and retained the legal services of Susan Brent-Hawley which has resulted in a stay of the demolition order that had been granted. The case remains in the courts. Donations to the cause can be made to PAST.

We hope you will be able to join with us as we unveil this monument on the site of the historic rancho.

Driving directions: From Foothill Expressway, take Arastradero Road into the hills.
At .4/10th mile turn left on Old Adobe Road. Proceed one quarter mile. to the monument.

Clark and Kathy Akatiff
Tony Cisneros
Jeanne McDonnell
Corri Jimenez
---
Early Threats Lead to Concern and Action
Monday, April 16, 2007
Dear Friend of the Juana Briones house,
The Demolition Permit for the Juana Briones House was issued on Monday April 9. Since the court decision requires a 60 day period of time during which concerned individuals and organization may take steps to preserve parts of the building and document its existence, the demolition itself cannot take place until June 9, 2007. Those seeking entry to the property for purposes of partial preservation and/or documentation must, by the requirement of the court, must be covered by insurance and sign waivers of liability. The JBHF is in the process of securing the required insurance, and will also coordinate the collection and submission of waivers.
However, there are further developments. An independent group of citizens have begun legal action to enjoin the demolition since an Environmental Impact Report has not been submitted. It is unclear if this will affect the current situation, but there is a possibility that it might further delay action. You may read of this development at: http: //www.mercurynews.com/news/ci_5657505.
In addition, other people have come forward to add their voices to the preservationist cause. Some of these people have planned a public demonstration in support of the preservation of the Juana Briones House. This demonstration will be held at Palo Alto City Hall at noon on Monday, April 23.
As a final note: members of the foundation met with representatives of the City of Palo Alto Parks department and made plans to place a permanent,State Historical Marker at the end of Old Adobe Road, where it meets Esther Clark Park. This dedication of the marker will be announced at a later date.
Clark Akatiff

---
For more information, read our article in the Summer 2007 PAST Newsletter or see the Inventory page for the Juana Briones House.
---

E-mail us at either webmaster@pastheritage.org or president@pastheritage.org.

Palo Alto Stanford Heritage—Dedicated to the preservation of Palo Alto's historic buildings.