Palo Alto Stanford Heritage
---
---
Palo Alto Walking Tours
ALL SPRING TOURS ARE CANCELLED. Check back in the fall.
New tours of Barron Park and Greenmeadow will be on the schedule.
All tours start at 10 a.m. (Schedule subject to change)
Date
Location
Tour Leader
Meeting Place




Homer Avenue
Steve Emslie
The Woman's Club

475 Homer Avenue at Cowper
Crescent Park
Margaret Feuer
The Squire House

900 University Avenue
Professorville
Kris Zavoli
and
Anne Gregor
Meet in front of 1005 Bryant at the corner of Bryant and Addison



Downtown
Margaret Feuer
City Hall Plaza

250 Hamilton Avenue


College Terrace
Carolyn George

1181 College Avenue

(College at Harvard)

New



Barron Park
Nick Marinaro and Bo Crane

Bol Park, 3590 Laguna Avenue



New



Greemeadow
Bo Crane
Meet at the corner of Nelson and Parkside Drives, opoposite 4010 Nelson


Tech Tour
Bo Crane
Meet at the plaza on the Ramona Street side of 250 University Avenue.

Candid Photos from Previous Tours
Tech Tour, October 19, 2019: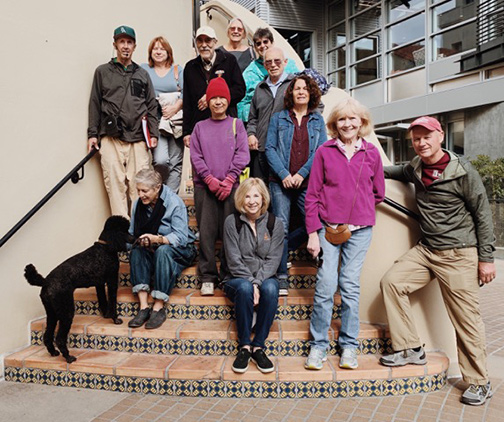 Crescent Park, September 28, 2013:
Homer Avenue, November 3, 2018:
Downtown/Homer May 5, 2012:
If you missed the latest tours or want a glimpse of past tours, check out the self-guided brochures describe below.
Homer Avenue Heritage Walk

Old laundries, the church from Harold and Maude, charming Victorian cottages—it's all on Homer Avenue!

College Terrace

"Neat Cottages" and "Handsome Residences" define the flavor of College Terrace!

Downtown Walking Tour

Beautiful tiles abound! The brochure is currently being revised, so join the next tour!

Professorville Sampler

This walk gives you a feel for this wonderful neighborhood that is listed on the National Register of Historic Places and was Palo Alto's first historical district! Read about early Professorville residents in "Who Was Who in Professorville" by columnist Ward Winslow, reprinted from the Sunday, October 13, 1985 Palo Alto Times Tribune.

Holiday House Tours

Links to photos from past Holiday House Tours are on the Holiday House Tour page. (There are no plans to resume these tours.)

---

E-mail us at either webmaster@pastheritage.org or president@pastheritage.org.

Palo Alto Stanford Heritage—Dedicated to the preservation of Palo Alto's historic buildings.