---
Have you seen this man?

A sampling of 1914 homes . . .
A sampling of homes from Mayfield! (Otherwise know as the California Avenue area.)
---
Have you seen these?
Read about architectural styles found in Palo Alto and where examples can be found.
A newly discovered listing of important local people from the Palo Alto Historical Association's files which also provides an outline of Palo Alto's early history and links to many historic photographs!
More articles written by Margaret Feuer from the bi-weekly series in the Palo Alto Daily News. Additions include the Payne Douglass Mansion (2 articles) on Valpariso in Menlo Park that is now part of Menlo School.
Residents of the Los Arboles Eichler neighborhood gathered together to restore their sign and the clean up the overgrowth at Middlefield and Ames Avenue. See how the work progressed!
Just added, more pictures of the 2010 Preservation Awards winning properties!
---
Then and Now... the windows on the tower are the clue to the identity of this 1895 house at 446 Forest Avenue.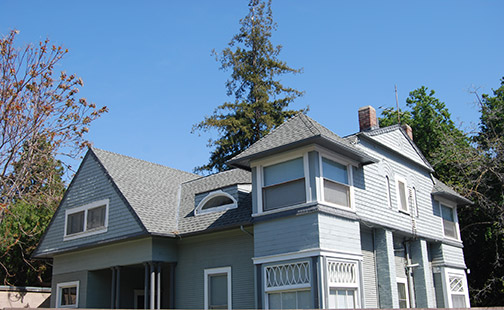 Attention researchers! The History Desk and Archives manned by historian Steve Staiger is now at its new, temporary site in room H–5 at Cubberley, 4000 Middlefield Road. Steve's hours remain the same, Tuesdays from 4 to 8 p.m. and Thursdays from 1 to 5 p.m. Most of the old photos used by PAST are from the Palo Alto Historical Association's archives.
---