---
Welcome! New: More photos of centennial buildings, but PAST needs you help. As you will discover, many of them are no longer standing. If you have a picture of one, please share it with us as we want to honor its 100 year presence in our city!
---
Have you driven down Palo Alto Avenue lately? Or glanced towards San Franscisquito Creek while crossing Hale Street? The pump house has ungone restoration to repair the ravages of time on this charming city building! The renovation is complete—see the after picture below!

---
Coming this fall:

Homer Avenue

College Terrace

Professorville

Crescent Park
---
---
Have you seen this man? He's locked in the now closed University Arts store on Hamilton. Will he still be there when the building is open again?
Was your house built in 1916 or earlier?
Please let us know so it can receive a plaque next year. Below are two 1915 homes . . . can we add your home next year!
A sampling of homes from Mayfield! (Otherwise know as the California Avenue area.)
---
Have you followed these links?
Read about architectural styles found in Palo Alto and where examples can be found.
A newly discovered listing of important local people from the Palo Alto Historical Association's files which also provides an outline of Palo Alto's early history and links to many historic photographs!
More articles written by Margaret Feuer from the weekly series in the Palo Alto Daily News. Additions include the Payne Douglass Mansion (2 articles) on Valpariso in Menlo Park that is now part of Menlo School.
Residents of the Los Arboles Eichler neighborhood gathered together to restore their sign and the clean up the overgrowth at Middlefield and Ames Avenue. See how the work progressed!
Just added, more pictures of the 2010 Preservation Awards winning properties!
---
Then and Now... the windows on the tower are the clue to the identity of this 1895 house at 446 Forest Avenue.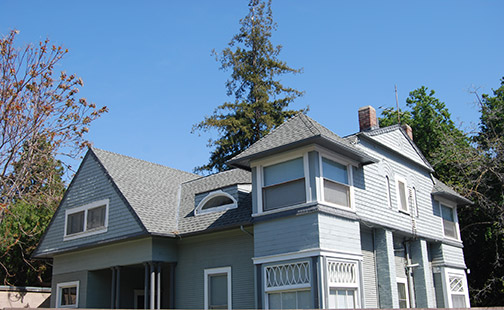 Attention researchers! The History Desk and Archives manned by historian Steve Staiger is now at its new site in room K–7 at Cubberley, 4000 Middlefield Road. Steve's hours remain the same, Tuesdays from 4 to 8 p.m. and Thursdays from 1 to 5 p.m. Most of the old photos used by PAST are from the Palo Alto Historical Association's archives.
---
This 1941 photo of University Avenue shows the original location of Congdon and Crome on the northwest corner in the center of the picture. This was before the now familiar brick facade of Mills the Florist. Congdon and Crome will be missed!
---
Continuing local tid-bits not to be missed! PAST is providing a weekly article about an historic structure in Palo Alto in the Palo Alto Daily News. It appears in the Friday real estate section. In case you missed any of them, many are posted on our website.
---

Demolitions . . . Always a concern. . . .

Two homes by prominent Palo Alto architects were demolished this summer. Others, both large and small are identified on the Demolition or appropriate house list page. Remember, "the greenest house is almost always the one already built". (Spring 2012, Preservation Magazine)

| | |
| --- | --- |
| Possible demolition at 259 Santa Rita Avenue? | |
| | |
| | |

---

Architects and builders who worked in Palo Alto into the 1960's.
Preservation Awards by Year — the page is much smoother now!
Birge Clark
Early Palo Altans
Photos of houses by address
Daily News Articles
Demolitions
Edgewood Plaza
Greenmeadow
Hangar One
History Links
Charles Hodges
Juana Briones
Los Arboles
National Register Properties
Membership Blank JOIN NOW!


More easy links:

---

Take a look... at the master index of houses on this Website! There are links to houses all over town. If you have a photo of your house to add, please contact us! It could be an older photo, a more recent one, or even better, historic!

---

Palo Alto Remembered: Stories from a City's Past published by the Palo Alto Historical Association find out more


---

Now playing on Heritage: The April 2011 Palo Alto Historical Association program celebrating the Pacific Art League's 90th Anniversary. Note: Schedule is subject to change.




| | | | | | | | | | | | | |
| --- | --- | --- | --- | --- | --- | --- | --- | --- | --- | --- | --- | --- |
| Channel 30 | | Wednesday, | | 8 p.m. | | Thursday, | | 10:30 a.m. | | Saturday, | | 1 p.m. |




Note: The monthly Heritage programs are also shown on Channel 28 at less convenient times.

If you don't have access to cable, you can also watch on your computer at the same times on the web page for the Media Center: www.communitymediacenter.net.

If you missed any of the broadcasts, such as the programs about Edward Durell Stone, Jeanne McDonnell's presentation on Juana Briones, or the presentation that included 2005 Bryant Street, they are available on DVD to borrow from the History Desk located in Room K-7 at the Cubberley Center on Middlefield Road. The History Desk is open Tuesday evenings from 4 to 8 and Thursday afternoons from 1 to 5.

---

---

---

Links to videos from the Palo Alto Historical Association's Exploring the Archives . . . National Register Properties in Palo Alto . . . Places to Visit . . . and more are on our Resources page.

---

Do you recognize anything in these photos? Do you know where they were taken?


University Avenue, 1941

Nortree Hall, not rebuilt after 1906 earthquake

318 Middlefield

Byxbee Real Estate Office

Dr. Russell Lee and Birge Clark

Stanford cottage. Do you know who lived here?

Board of Directors of the Bank of Palo Alto

Do you have an old photo to share?
Please contact us!


---

Learn more about PAST

Hangar One Read more at the Save Hangar One website.

---

| | | |
| --- | --- | --- |
| | | |

E-mail us at either webmaster@pastheritage.org or president@pastheritage.org.

Palo Alto Stanford Heritage—Dedicated to the preservation of Palo Alto's historic buildings.

Copyright © 2012 Palo Alto Stanford Heritage. All rights reserved.