Palo Alto Stanford Heritage
---
---
Spring 2023 Palo Alto Walking Tours
Celebrate the centennial of Birge Clark's practice in Palo Alto on a walking tour that feature bits of loal color, well-known structures and little known facts. Bo Crane has created these tours and will be your tour guide on each of the tours.
All tours start at 10 a.m. on Saturday mornings and are about 1 1/2 level miles long
All tours are free, open to the pubic, and take about 90 miutes. No reservations are required, — just show up, but don't forget to bring water, sun or light rain protection. Walkers are also responsible for their own safety.
---
Tour

Meeting Place
April 29
North Palo Alto
Ruthven, Hawthorne, Byron and Palo Alto Ave.
622 Palo Alto Avenue
Go north on Webster and turn right on Palo Alto Ave. for parking.
May 6

Stanford
Mayfield-Salvatierra neighborhood
Attneave House, 589 Capistrano Way, at Mayfield Avenue
May 13
Downtown Birge Clark
Birge Clark designs on Ramona Street and University Avenue
City Hall Plaza, 250 Hamilton Avenue
May 20
Mayfield
Also includes Evergreen Park on the north side of California Avenue
Sarah Wallis Park, Ash and Grant
May 27
Beyond Professorville
Casaquerida, La Casa Abierta, Palo Club, Allen House, El Patio
1325 Cowper Street
June 10

Stanford
Birge Clark on Campus in the Mayfield-Salvatierra Neighborhood
Attneave House, 589 Capistrano Way, at Mayfield Avenue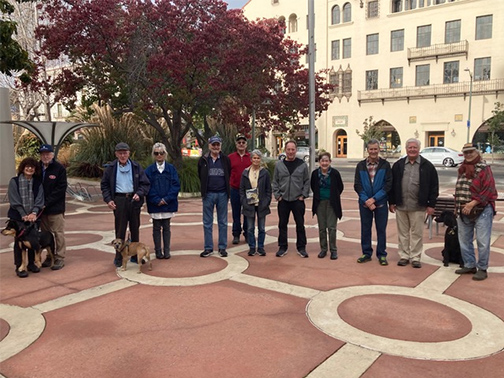 14 people were on this tour.
Professorville Tour, October 23, 2022:


Birge Clark's granddaughter Mallory with husband John, and Bo Crane
Birge Clark Webster Tour, October 15, 2022: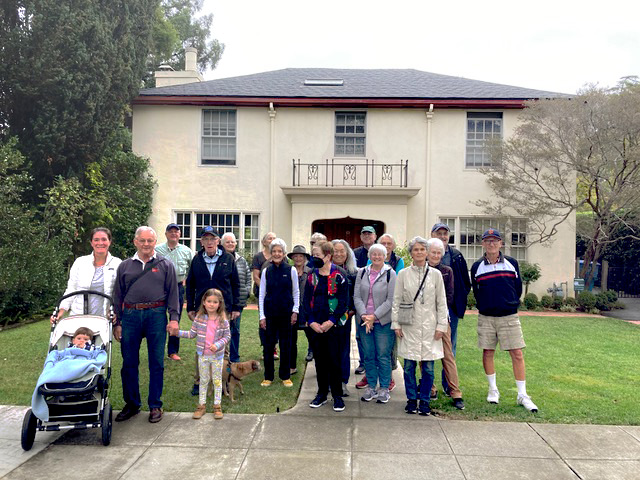 Birge Clark Edgewood Tour, October 1, 2022:


Participants included Birge's son Dean!
Crescent Park, May 21, 2022: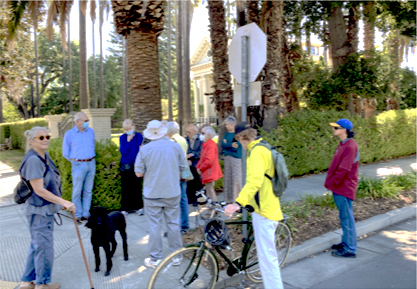 Squire House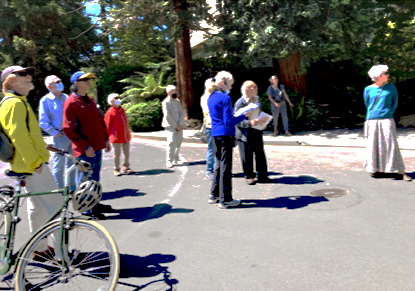 Forest Court
Mayfield Tour, May 7, 2022:

Taken on the November 6, 2021 Barron Park tour:

Homer Avenue, November 3, 2018:

Professorville, October 20, 2018:

Crescent Park, September 28, 2013:

Downtown/Homer May 5, 2012: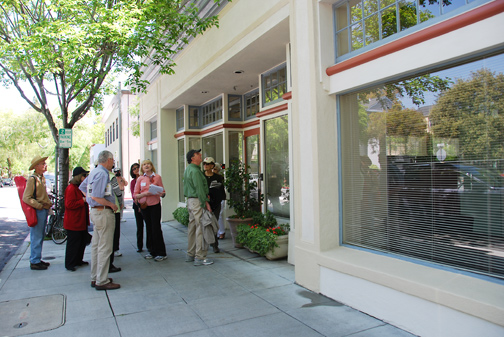 If you missed the latest tours or want a glimpse of past tours, check out the self-guided brochures describe below.
Homer Avenue Heritage Walk

Old laundries, the church from Harold and Maude, charming Victorian cottages—it's all on Homer Avenue!

College Terrace

"Neat Cottages" and "Handsome Residences" define the flavor of College Terrace!

Downtown Walking Tour

Beautiful tiles abound! The brochure is currently being revised, so join the next tour!

Crescent Park

There is no brochure for this tour yet—so join us on the next docent-led tour!

Professorville Sampler

This walk gives you a feel for this wonderful neighborhood that is listed on the National Register of Historic Places and was Palo Alto's first historical district! Read about early Professorville residents in "Who Was Who in Professorville" by columnist Ward Winslow, reprinted from the Sunday, October 13, 1985 Palo Alto Times Tribune.

Holiday House Tours

Links to photos from past Holiday House Tours are on the Holiday House Tour page. (There are no plans to resume these tours.)

---

E-mail us at either webmaster@pastheritage.org or president@pastheritage.org.

Palo Alto Stanford Heritage—Dedicated to the preservation of Palo Alto's historic buildings.