Palo Alto Stanford Heritage
---
---
Centennial Plaques
---

Centennial buildings as listed by street. Some houses have multiple listings because they have been identified as being constructed in more than one year. Sometimes this is due to identification by the building permit date which was issued the year before occupancy.
Search by beginning letter of street name:
---
---
---
---
365 Guinda Street, ca. 1908
381 Guinda Street, 1908
421 Guinda Street, 1904
605 Guinda Street, 1922
811 Guinda Street, 1922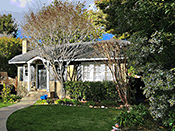 1135 Guinda Street, 1922
---
---
* Received plaque
---

E-mail us at either webmaster@pastheritage.org or president@pastheritage.org.

Palo Alto Stanford Heritage—Dedicated to the preservation of Palo Alto's historic buildings.