Palo Alto Stanford Heritage
---
---
Frank Delos Wolfe, Architect
Palo Alto and Stanford Works by Frank Delos Wolfe

San Jose architect Frank Delos Wolfe (1862–1926) may have been the most prolific architect of his time. Both alone and with partners, he was responsible for as many as 1,000 works during an architectural career that lasted almost 35 years. Eight of these works are today on the National Register of Historic Places.
Frank Wolfe was a self–taught architect with a natural sense of design and an eagerness to try new ideas. His work can be roughly divided into three styles: the unique Neoclassical look of the Wolfe & McKenzie years (1899–1910), the Prairie–influenced architecture during the Wolfe & Wolfe years with his son Carl (1912–1916), and the Spanish Revival style of his partnership with William Higgins (1918–1926). He also worked successfully in many other genres, producing outstanding examples of Craftsman, Mission Revival, and various other revival styles throughout his career.
Frank Wolfe and Charles S. McKenzie can be said to have been the architects most responsible for the look and character of San Jose at the turn of the 20th century. Their successful partnership produced banks, hospitals, schools, and commercial buildings, but they were best known for their residential designs with signature features such as cantilevered corner windows and balconies. They designed many of the houses in what are today San Jose's historic neighborhoods as well as neighboring communities in northern California. Several are in Palo Alto, including the Peck Wilson house at 860 University Avenue.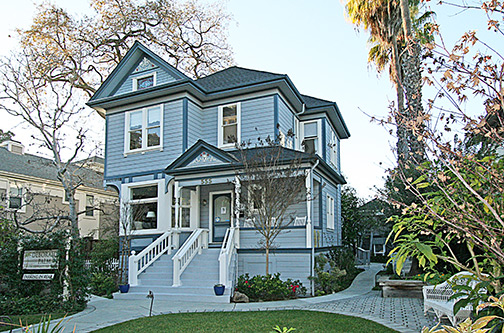 555 Lytton Avenue
711 Cowper Street
In 1912, inspired by Chicago architect Frank Lloyd Wright, Wolfe began working in the Prairie style. The houses he produced were unlike anything else seen in the area at the time, and received much national attention as well. Solid, square buildings with flat roofs and deep overhanging eaves, stained glass windows, and ornate decoration, these homes seized the attention of people who wanted something unusual, and became the signature style of Frank Delos Wolfe over the next several years. Today, these houses, most of which still exist in San Jose, make San Jose a western center for Prairie architecture.
During the last eight years of his career, Wolfe was best known for his Spanish Revival houses, with partner William Higgins.
Krista Van Laan, author of Frank Delos Wolfe: California Prairie Architecture
Reprinted from the 2015 PAST Member Appreciation Event.
---
Palo Alto / Stanford Residences
711 Cowper, 1893
555 Lytton, 1896
1052 Bryant, 1900
411 Lytton, 1901



threatened

860 University, 1906

1037 Greenwood, 1908


475 Melville, 1911
831 University, 1911 —

demolished

624 Mayfield, Stanford, 1921/1923

Wolfe & Higgins
675 Alvarado Row, Stanford, 1925
625 Hale, 1925
---
---

E-mail us at either webmaster@pastheritage.org or president@pastheritage.org.

Palo Alto Stanford Heritage—Dedicated to the preservation of Palo Alto's historic buildings.