Palo Alto Stanford Heritage
---
---
The Peck–Wilson House
860 University Avenue

When Leland Stanford wanted a "dry" town to be developed adjacent to his university, he turned to his friend and business associate, Timothy Hopkins, the adopted son of Mark Hopkins. In the 1880's, Hopkins obliged by purchasing 697.5 acres from San Francisquito Creek to Embarcadero and from the railroad to northeast of Middlefield. He named the new town University Park. At Stanford's request, the name was changed to Palo Alto. Regardless of nomenclature, when lots were put on the market on June 7, 1890, they sold like hotcakes.
Built in 1906, The Peck–Wilson house at 860 University, was one of the first of the opulent residences on large lots to be built east of Middlefield. It was built for Mr. and Mrs. Elbert Peck who sold it a year later to Dr. Carl and Clara Wilson. Members of the Wilson family resided in the house until 1975.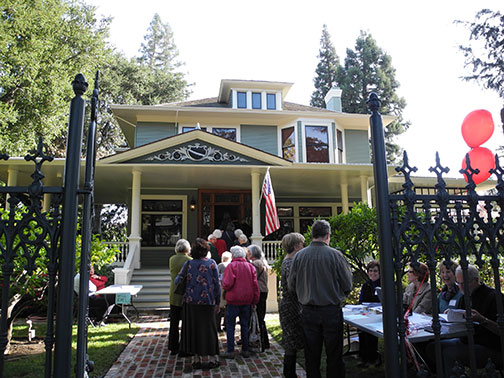 Today, hidden behind a wrought iron fence and greenery, this two and a half story house remains an outstanding example of a version of the Colonial Revival style used widely in Palo Alto between 1895 and 1915. It is notable architecturally for its generous scale, balance and outstanding detail. As you approach 860 University, you notice its wood frame construction with the upper floor sheathed in narrow clapboard siding while the lower floor has much wider clapboard. The roof is hipped with a slight flare near the eaves. In the center of each side is a low dormer, also hipped.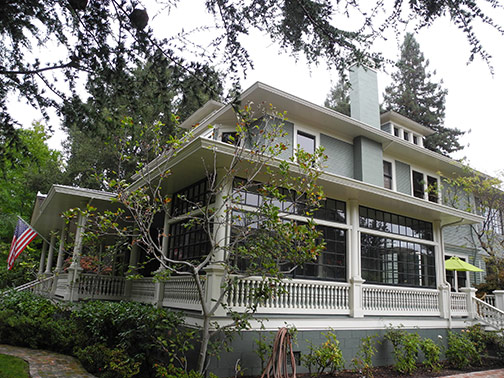 A one story verandah completely enfronts the house and wraps around both sides. Wide, shallow steps lead to the verandah and this entry point is marked by a low gable with relief ornament including a shield and floral motifs. The porch canopy is supported by recessed columns without capitais and appears to float above the ground. On the northeastern side of the house are two curved bay windows. One of these projects from the lower floor only but the other, a stairwell window, is one and a half stories high and contains elaborately designed art glass. The central panel is a scenic design with waterfall, done in a naturalistic style. The window uses unique colors in combinations associated with Tiffany Studios although its provenance is unverified. This window is among the finest in Palo Alto. Its complex design, striking colors and the rounded forms necessitated by the bay are the work of a master craftsman.
At the rear of the property is a two story stable/carriage house, rectangular in form with a crossed gable roof and a louvered vent. Further back is a small wood frame gardener's cottage.
The striking exterior of this house combined with its lustrous wood interior are largely unchanged from the original. It is a tribute both to the optimism of Palo Altos early residents and to the recognition by its present owners of the importance of historic buildings. ©
Margaret Feuer
PAST, August 30, 2013 and August 15, 2014
---

E-mail us at either webmaster@pastheritage.org or president@pastheritage.org.

Palo Alto Stanford Heritage—Dedicated to the preservation of Palo Alto's historic buildings.