Palo Alto Stanford Heritage
---
---
Palo Alto Historic Buildings Inventory
373 - 375 Whitman Court

Earlier address: Little Kingsley

Professorville
| | |
| --- | --- |
| | |
| Inventory photo | Photo taken July 31, 2010 |
The following is from the Historic Buildings Inventory as revised in 1985:
Physical appearance:  This one-story ship-lap rustic cottage has a veranda which is a later, but appropriate, addition.
Significance:  This is an important element of the complex of Craftsman cottages built at the beginning of the [20th] century (364 and 374 Kingsley, 1220 Waverley). It was added in 1908 for the Needles family, on of whom, Edna, was then a Stanford student. She occupied on half of the duplex for a few years and afterward occasionally visited from her New York home. As rental property, it was occupied by numerous tenants whose tenure was relatively brief. The owners in 1985 were Loren and Susan Sorenson.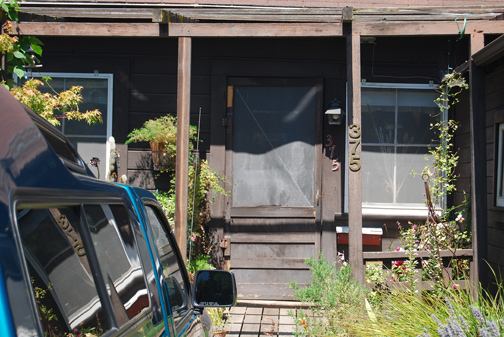 This house was built in 1908 and is a Category 4 on the Historic Buildings Inventory. The architect and builder are not known. The property measures 72 by 190 feet.
Sources: Palo Alto City Directories; Palo Alto Times 12/24/1908; interview 1985, Susan Sorenson, Eleanor Pfalmer (granddaughter of Bolton Brown), Richard Liechti, John Manwaring
---

E-mail us at either webmaster@pastheritage.org or president@pastheritage.org.

Palo Alto Stanford Heritage—Dedicated to the preservation of Palo Alto's historic buildings.