Palo Alto Stanford Heritage
---
---
Palo Alto Historic Buildings Inventory
401 Lowell Avenue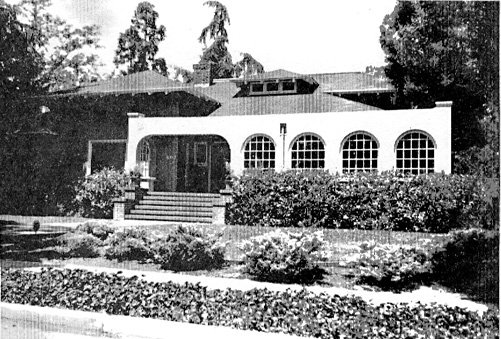 Inventory photo
The following is from the Historic Buildings Inventory as revised in 1985:
Physical appearance:  Physical appearance: The careful proportions and well-resolved intersections give this Mission Revival style residence exceptional qualities. the porch was enclosed in a major remodeling project in 1928; other minor alterations occurred in 1982.
Significance:  A very skillful adaptation of the Mission Revival mode, built by and for Gustav and Mabel (Seale) Laumeister, who lived in it until 1917. The occupant in 1924–26 was the prominent diamond merchant and talented amateur cello player, Fritz Barkan (died, January 1984). From 1929 to 1954 it was owned by R. D. Robbins, a member of a wealthy Solano County family of landowners and bankers. Dr. Rush Faville, 1954 to 1964, and Dr. Allen C. Sidle, 1973–1980 were the occupants before Peter and Suzanne H. Vole.
This house was built in 1908 and is a Category 4 on the Historic Buildings Inventory. The original builder was Gustav Laumeister and the 1928 remodeling was done by Henry B. Post. The property measures 100 by 150 feet.
Sources: Palo Alto City Directories; Palo Alto Times 12/24/08, 6/21/28, 11/16/28.
---

E-mail us at either webmaster@pastheritage.org or president@pastheritage.org.

Palo Alto Stanford Heritage—Dedicated to the preservation of Palo Alto's historic buildings.