Palo Alto Stanford Heritage
---
---
Palo Alto Historic Buildings Inventory
555 Kellogg Avenue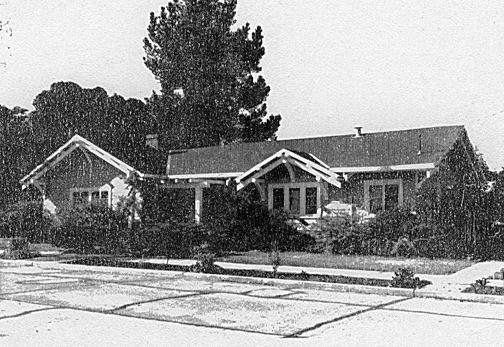 Photo taken March 6, 2020.

The following is from the Historic Buildings Inventory as revised in 1985:

  This emphatically horizontal Craftsman bungalow is enriched by its complex roof support expression.

1335 Cowper, (now altered). (In 1910 the city directory listed five names for the address.)

  Owner James Perrin Smith was a pioneer professor in the Stanford Geology Department in 1894. He was a world authority in his paleontological specialty, the ammonites, and he was noted for his informality and ability to stimulate and inspire his students. Known by all as "J. P.", Smith habitually told stories on the Quad while smoking his famous "double-rolled" cigarettes. To enable him to continue until his death, these smokes and talks that brightened the lives of those who knew him, a group of his former students gave J. P. $10,000 in 1923. J. P. and his wife, Frances Rand Smith (an expert on Spanish architecture in California) and their children never lived in the house, but apparently rented the 555 Kellogg bungalow to students and other individuals while they lived close by at

Residents included: Mrs. Caroline Mason and Florence (1914-16); J. Adler (1916-17); Mrs. C. M. Mason (1917-19); vacant (1919-20); F. M. Shaw (1920-27) a native of England who came to Palo Alto in 1919. He died in February, 1954. H. W. Storer (1928); F. M. Shaw (1929-43).

Arthur & Dorothea Luhr lived in the house beginning in 1944. He was a native of Germany who had immigrated to the U. S. After attending the School of Physicians and Surgeons in San Francisco, Luhr and his family moved to Hawaii where he practiced dentistry until World War II. He returned to Palo Alto to practice until 1956 when he moved to Murphys, Calaveras County. In 1969 he retired, returned to live at 555 Kellogg until his death on March 1, 1976 at the age of 71 years. His widow and daughter lived there until 1985.

The owner in 1978 was Toby I. Gotthinger, M. D.

This is an excellent example of the less rustic phase of Craftsman design. The separate garage, probably original, is first recorded in 1918.

Note: Second story addition/remodel circa 1990.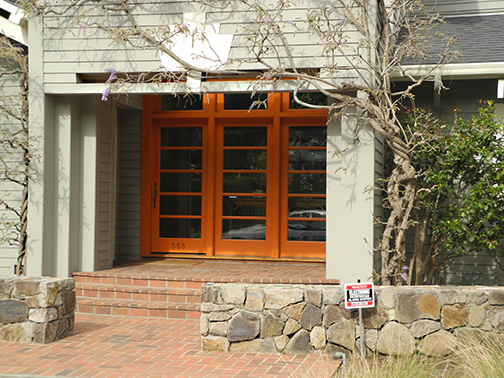 Location map
This house was built in 1909 and is a Category 3 on the Historic Buildings Inventory. The architect and the builder are unknown. The property measures 112.5 by 100 feet.
Sources: Palo Alto City Directories; Palo Alto Times 12/31/09, 1/1/32 (Smith), 1/29/23, 2/15/38 (Smith); Palo Alto Building Department dossier (555 Kellogg), 3/6/76 (Luhr); interview with Luhr family, 3/21/78
---

E-mail us at either webmaster@pastheritage.org or president@pastheritage.org.

Palo Alto Stanford Heritage—Dedicated to the preservation of Palo Alto's historic buildings.
Copyright © 2016 Palo Alto Stanford Heritage. All rights reserved.