Palo Alto Stanford Heritage
---
---
Palo Alto Historic Buildings Inventory
381 Hawthorne Avenue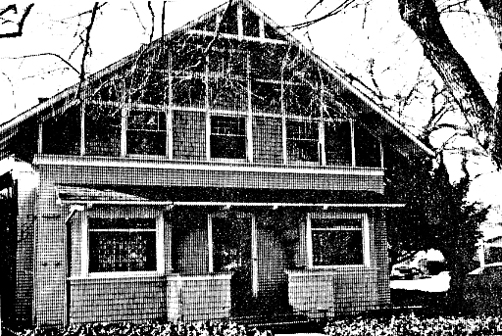 Inventory photo
The following is from the Historic Buildings Inventory as revised in 1983:
Physical appearance:  This carefully, abstractly composed facade hints of both Colonial Revival and Prairie School modes. The string courses and the thin porch canopy emphasize the horizontal aspects of the image.
Significance:  Apparently one of a number of small houses put up on Hawthorne near Waverley in 1903–04, and another in 1907. Professor Galen H. Clevenger occupied the house until 1918. Others included O. B. Edgecomb (1925–31, 1940–45), John Brunton (1932–39), Mrs. Louise O'Brien (1946–55), and Guy W. and Janet Garwood, 1959–1977. The next owner was Anthony Badger.
Location map
This house was built in 1903 and is a Category 3 on the Historic Buildings Inventory. The architect/builder was H. L. Upham. The property measures 50 by 100 feet.
Sources: Palo Alto City Directories; Palo Alto Times 1/1/04, 12/30/04, 1/3/08, 1/23/34
---

E-mail us at either webmaster@pastheritage.org or president@pastheritage.org.

Palo Alto Stanford Heritage—Dedicated to the preservation of Palo Alto's historic buildings.