Palo Alto Stanford Heritage
---
---
Palo Alto Historic Buildings Inventory
1424 Hamilton Avenue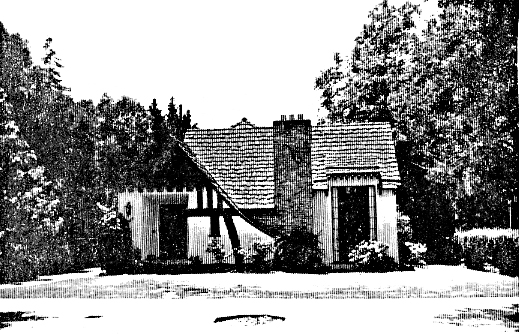 Inventory photo
The following is from the Historic Buildings Inventory as revised in 1985:
Physical appearance:  Modestly sized, this stucco and half-timbered one-story house contains an interesting half-timber design at the entry and a tall window at the opposite end which balances the composition. Additional decorative interest in provided by the brackets at the entry, roof forms, and window pane divisions.
Significance:  The inventive juxtaposition of materials, forms, and scales gives a fantasy-land version of the Tudor Revival mode. The first owners were William H. and Gladys G. Curtis (1931 – 1955). Curtis was the Pacific Coast manager for the American Tobacco Co.
From 1955 – 1971, the owner was John C. Fay, a mechanical engineer with the Guy Atkinson Co. Mark and Sandra Silver owned the house in the '70s, followed by John and Ann Riddle.
2016: There is a large two-story addition behind the original house. (Year unknown.)
Location map
This house was built in 1930 and is a 4 Category on the Historic Buildings Inventory. The builder was Aro and Okerman. The property measures 60 by 120 feet.
Sources: Palo Alto City Directories; Palo Alto Times 6/18/30, Dec. 1943; interview 1985, Ann Riddle
---

E-mail us at either webmaster@pastheritage.org or president@pastheritage.org.

Palo Alto Stanford Heritage—Dedicated to the preservation of Palo Alto's historic buildings.