Palo Alto Stanford Heritage
---
---
Palo Alto Historic Buildings Inventory
401 – 403 Florence Avenue
| | |
| --- | --- |
| | |
| Inventory photo | Photo taken 2015 |
The following is from the Historic Buildings Inventory as revised in 1985:
Physical appearance:  This structure is an elegantly proportioned and carefully detailed one-story brick building. A rondel window in the rear and the brick balustrade over the porch are particularly notable. The arched openings and brick detailing suggest a Romanesque architectural mode. The brick has been painted.
Significance:  This is an elegant building in a style unusual to the city of Palo Alto. It was designed to be "substantial and Handsome", and to "conform architecturally to the lines of" the much admired Swedenborgian Church of the New Jerusalem in San Francisco (Palo Alto Times, 8/11/02).
A. W. and Martha Mills organized the Palo Alto Christian Church congregation in 1896 with 26 members. This structure housed the church from 1904 until 1919, when it moved into a building at Bryant and Channing. Subsequently, other churches made use of the facility for many years. Since the '40s it has been occupied by, among others, the California State Automobile Association, a dance–theater group (Prometheus), and offices.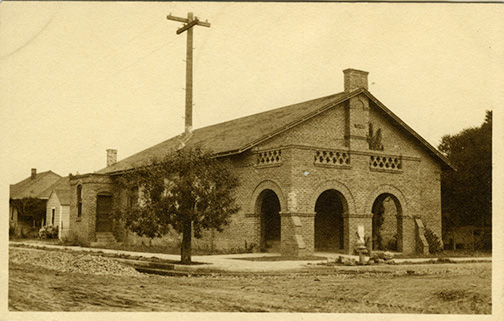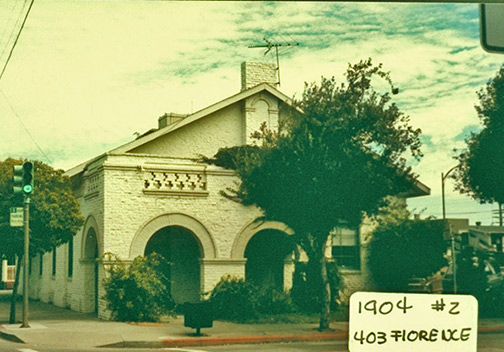 This house was built in 1904 and is a Category 2 on the Historic Buildings Inventory. The architect might have been R. H. Walker, an architect on the church board and building committee; the builders included J. A. Prewitt (brickwork), A. Mills (woodwork), and Wells P. Goodenough. The property measures 43 by 79 feet.
Sources: Polk's City Directory, Palo Alto; Palo Alto Times 3/6/03, 4/3/03, 8/21/03, 7/26/04, 5/29/06, 11/29/20, 9/18/50, 11/13/71; Palo Alto Weekly 2/19/81; Assessor's Books, City Hall; P.A. Historical Association files: Churches — Christian which contain an "Autobiography of the Palo Alto Christian Churches" by O.R. Meacham
---

E-mail us at either webmaster@pastheritage.org or president@pastheritage.org.

Palo Alto Stanford Heritage—Dedicated to the preservation of Palo Alto's historic buildings.