Palo Alto Stanford Heritage
---
---
Palo Alto Historic Buildings Inventory
359 Embarcadero Road

Earlier addresses: 374 Melville Avenue and 370 Embarcadero Road
| | |
| --- | --- |
| | |
| Inventory photo | July 2019 Real Estate photo |
The following is from the Historic Buildings Inventory as revised in 1985:
Physical appearance:  Octagonal forms intersecting with cubic ones create an unusual composition strongly influenced by the early work of Frank Lloyd Wright. The interlocking horizontal roof shapes reinforce the ground–hugging qualities. Surfaced in stucco, the two–story central section acts as a focus for the low one–story wing.
Significance:  This is a highly sophisticated variation on a style rare in Palo Alto. The qualities of the design suggest that the architects were thoroughly familiar with early Prairie School compositional principles. It was built for Sylvester Strong, a retired wheat merchant from Minneapolis. After Mrs. Strong's death, it passed to Walter H. and Jennie (Strong) John. John had completed a career as an accountant in Spokane and Seattle. For several years he was in charge of the Palo Alto shelter, which aided the unemployed and itinerants in Palo Alto during the depression. His son and daughter–in–law, Gain and Jane M. John, were the owners at the time of the Inventory.
The house was pictured in ad ad run in the May 2, 1906 Palo Alto Times "boosting" Palo Alto after the 1906 Earthquake.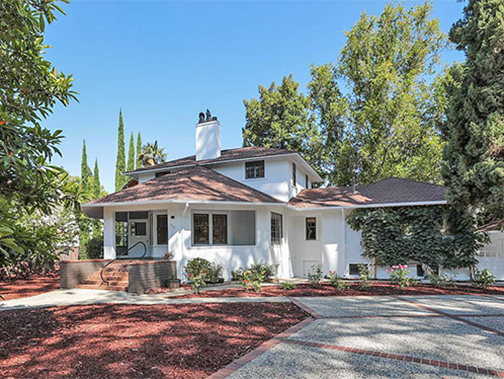 Robert Brandeis photo:

Location map: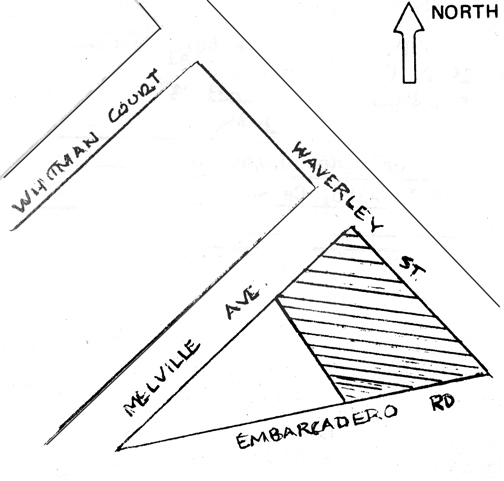 This house was built in 1901 and is a Category 4 on the Historic Buildings Inventory. The architect was Bertrand & Chamberlin of Minneapolis, Minnesota and the builder was George W. Mosher. The property measures 162 by 225 feet.
Sources: Palo Alto City Directories; Palo Alto Times 5/3/01, 6/7/01, 1/3/02, 6/3/54; interview 1982, Gain John; illustrated advertisement, 1908, Palo Alto Historical Association Real Estate—Individual Buildings file; the house is also pictured in an advertisement "boosting" Palo Alto after the 1906 earthquake: Palo Alto Times 5/2/06
---

E-mail us at either webmaster@pastheritage.org or president@pastheritage.org.

Palo Alto Stanford Heritage—Dedicated to the preservation of Palo Alto's historic buildings.