Palo Alto Stanford Heritage
---
---
Palo Alto Historic Buildings Inventory
1528 College Avenue

College Terrace

Earlier address: 1112 Palo Alto Avenue, Mayfield
| | |
| --- | --- |
| | |
| Inventory photo taken in 1978. | Photo taken May 13, 2015 |
The following is from the Historic Buildings Inventory as revised in 1985:
Physical appearance: The emphatic barge board and crisply detailed square bay are the major visual elements of this small two–story shiplap–surfaced vernacular house. Its importance is increased by proximity to 1487 and 1531 College Avenue buildings.
Significance: Birge Clark, who was born and raised in the 1890s nearby, recalls that Alexander Gordon, the developer of College Terrace, commissioned the construction of several model or "come–on" houses in the 1890s, this among them. Like those at 1487 and 1531 College Avenue, this house presents ornamental elements of Queen Anne "Victorian" vernacular buildings. P. P. Quinn, E. A. Hettinger, and William Peacock are builders of the time and locale who might have been employed by the developer.
Gordon sold the house in 1905 to Ella F. Ward (see 1487 College Avenue), who lived in it until after World War I. From 1920 to 1930, the owner was Mrs. Sadia Koskela, followed during the 1930s by Harold Hendrickson, salesman. From 1931 to 1954, the house was occupied by Mrs. Mary Holmund, one of Mrs. Koskela's daughters. She was a widow and her son David lived with her.
During the 1960s it was vacant and in the 1970s it was occupied by a number of short–term tenants. Note: The Inventory lists its condition as excellent, but at some time after that, it was a rental.
Note: The following information was provided by Irene Herring in January, 2020:
My husband Steve and I owned and lived with our children in the house at 1528 College Avenue. We purchased it and renovated it in 1986. We installed a stained glass window, which we designed, had it painted 4 different colors to bring it back to Painted Lady status, even had gold leafing put on it, and did a Victorian garden. We also installed new newel posts and plaster brackets throughout the house. It looks as beautiful as it does today because of us. We lived it the house from 1986 to 1990.

It was a very run down house when we purchased it. It did not turn into the lovely house that it is today magically. We pretty much did all of the work on it ourselves. It was a labor of love.
Photo taken September 12, 2014 with brick chimney.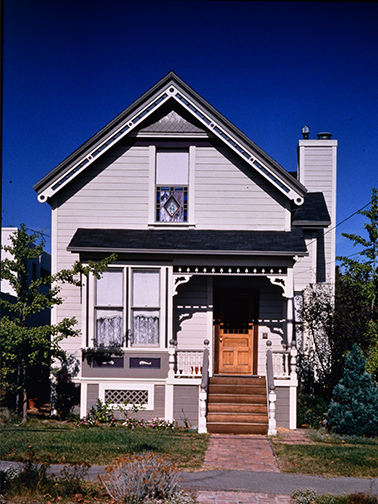 Circa 1996 Robert Brandeis photo. Note added chimney.
Window detail.
The following is from the Centennial Buildings Tour, prepared by The City of Palo Alto Historic Resources Board for the Centennial Building Celebration, April 16, 1994. The houses included on the tour were all identified as at least 100 years old:
First located at 1112 Palo Alto Avenue, the bargeboard and crisply detailed square bay are the major elements of this small two story shiplap–surfaced house with Queen Anne ornamentation. This is another "Come On" (model home) house built by developer Alexander Gordon.
This house was built in the 1890s and is a Category 4 on the Historic Buildings Inventory. The builder is unknown. The property measures 50 by 115 feet.
Sources: Palo Alto City Directories; Palo Alto Times 4/30/52; Book 296 (Deeds), p. 503, September 1, 1905; Book 423 (Deeds), p. 144, October 16, 1914 (Santa Clara County Recorder)
---

E-mail us at either webmaster@pastheritage.org or president@pastheritage.org.

Palo Alto Stanford Heritage—Dedicated to the preservation of Palo Alto's historic buildings.