Palo Alto Stanford Heritage
---
---
Palo Alto Historic Buildings Inventory
141 Alma Street

The following is from the Historic Buildings Inventory as revised in 1985:
Physical appearance: This hip–roofed Craftsman house is gabled at the entry and has carved brackets at the eaves. The wide horizontal roof covering the verandah that extends across the front provides one of the building's principal design elements. The clapboard siding of the house also covers battered porch supports.
The rear cottages were added circa 1946.
Significance: It was originally owned by R.F. Mettman. Since 1926 it has been the family home of the Pappas family. At the time of World War I, three brothers, Gus, Jim, and Tom, emigrated from Greece. Upon arrival in Palo Alto in 1922, they bought the Orpheum Cafe on the Circle and renamed it the New Orpheum. It was a leading city restaurant until 1939, when business dropped away after completion of the University Avenue underpass. During the Depression, they served soup and sandwiches freely to the unemplbyed, and continued to do so for many years on holidays. Thomas Pappas, the last surviving brother, died in at age 97, the day after the death of his son, Danny.
Cottages were added at the rear ca. 1946. Recent research has determined that the house was built in 1905 instead of the originally listed 1919.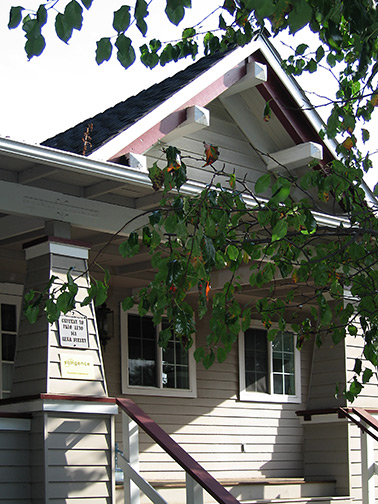 The plaque identifies the location as "The Gateway to Palo Alto"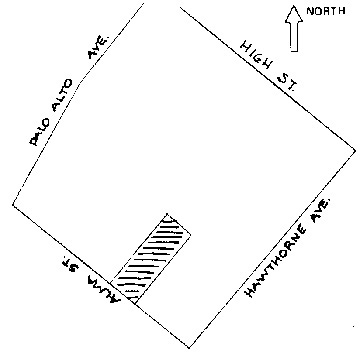 This house was built in 1905 and is a Category 4 on the Historic Buildings Inventory. In 2006, it was honored with a Palo Alto Stanford Heritage Adaptive Reuse Award. The property measures 60 by 171.5 feet.
Sources: Palo Alto City Directories; Palo Alto Times 7/5/26, 11/17/84; interview 1985, Mrs. Daisy Pappas
---

E-mail us at either webmaster@pastheritage.org or president@pastheritage.org.

Palo Alto Stanford Heritage—Dedicated to the preservation of Palo Alto's historic buildings.