Palo Alto Stanford Heritage
---
---
Palo Alto Historic Buildings Inventory
367 Addison Avenue
HP House, Garage and Cottage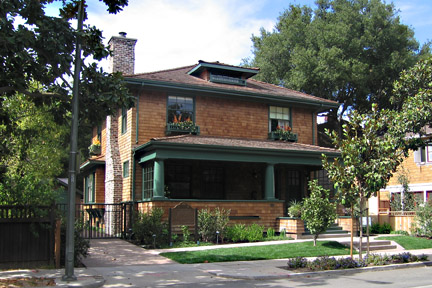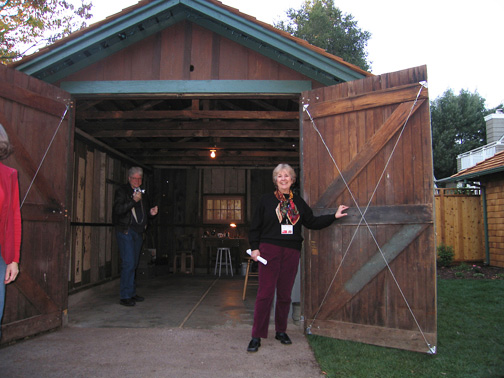 These photos were taken shortly after Hewlett Packard restored 367 Addison Avenue, known as The Birthplace of Silicon Valley. The interior of the garage was arranged as it was when used by William Hewlett and David Packard. The cottage which served as Packard's living quarters is to the right of the open door.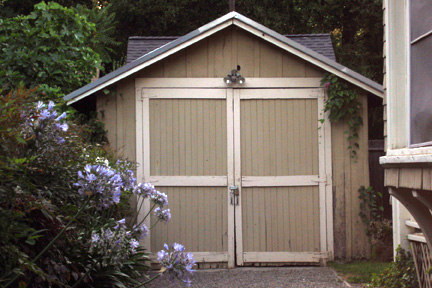 Both of the above pictures were taken before restoration of the garage.

The following is from the Historic Buildings Inventory as revised in 1985:

The brown shingled house at 367 Addison Ave. was built by 1905. Dr. John Spencer, well known physician and his wife were the first documented residents to live in the house. Dr. Spencer was the first Mayor of Palo Alto in 1909 under the Charter form of government. In 1919–20 they spent $2000 for alterations to the residence dividing it into two apartments numbered 367 and 369. During 1938 and 1939 David Packard and his wife lived in a three room apartment at 367 Addison. After 1942 the house was renumbered 367 and divided into five apartments. In 1980 the house was converted back to two apartments. Also located on the property is a 12x18 brown shingled cottage where William Hewlett, then single, lived in 1938–39 while attending Stanford and conducting experiments in the garage measuring 18 feet long, 12 feet wide and 8 feet high. They invented a variety of machines during 1938 in the garage which was only a spare time venture. Hewlett, a student of Professor Frederick E. Terman used [them] as the subject of his thesis.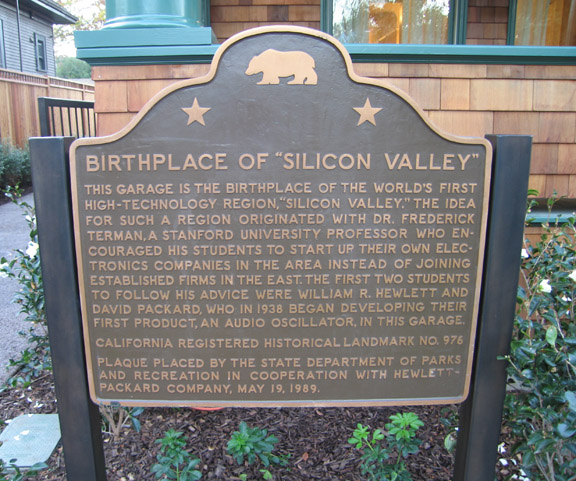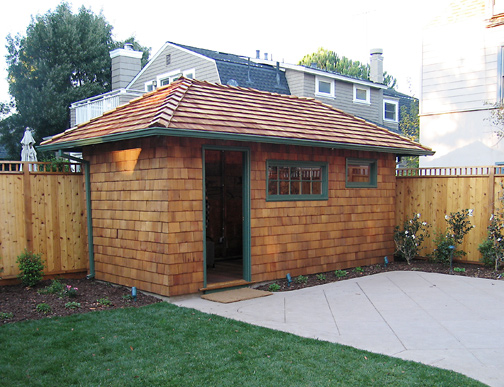 Restored cottage behind the main house where Bill Hewlett lived .
Short video about the history of 367 Addison Avenue.
This house was built in 1905 and restored in 2005. It is a Category 1 on the Palo Alto Historic Buildings Inventory. It is California Registered Landmark No. 976 and was listed on the National Trust of Historic Places as No. 07000307 on April 20, 2007; it received a PAST Community Preservation Award in 2006. The property measures 50 by 150 feet.
Sources: Palo Alto City Directories; interviews with David Packard and William Hewlett from video tape 8/26/80 and 10/15/80; Watt's Current, 2/13/48; Rogers, E. M. and J. K. Larsen, Silicon Valley Fever, 1984, 11/18/49; Morgan, Jane, Electronics in the West, 1967
---

E-mail us at either webmaster@pastheritage.org or president@pastheritage.org.

Palo Alto Stanford Heritage—Dedicated to the preservation of Palo Alto's historic buildings.
Copyright © 2017-2019 Palo Alto Stanford Heritage. All rights reserved.