Palo Alto Stanford Heritage
---
---
1111 Middlefield Road
Centennial Home

Built circa 1921
Photo taken by Colleen Braff March 6, 2022: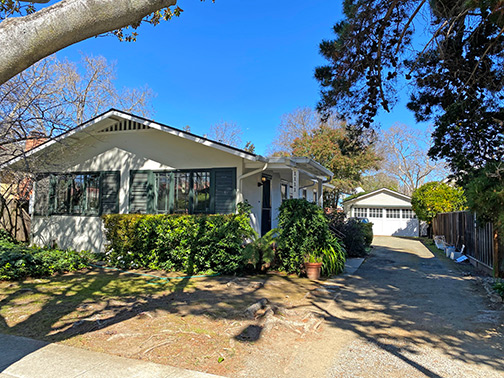 The original cost of this house was $3,633. The builder is unknown.
The first owner and occupant of this house, W.T. Mitchell, a clerk, lived here between 1923 and 1927. Other residents included Maude Tronslin, private secretary of David Starr Jordan, Stanford University President, who lived here in 1930–31 and Phillip Hartman, Parts Manager of Shaw Motors who lived here in 1936.
Deemed potentially eligible for the California Register of Historic Resources by Dames and Moore in 1998.
---

E-mail us at either webmaster@pastheritage.org or president@pastheritage.org.

Palo Alto Stanford Heritage—Dedicated to the preservation of Palo Alto's historic buildings.