---
---
1310 Bryant Street — 211 Melville
Lockey Alumnae House

Castilleja Campus, Centennial Home
Threatened
Built circa 1912-1916:
Photos taken February 28, 2016. (This house is not visiable from the street.)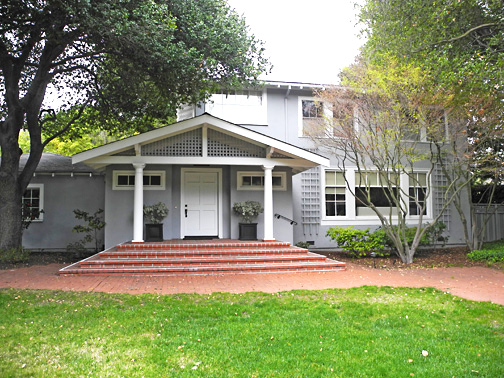 The parcel map shows in red the approximate location of the Lockey Alumnae House on the Castilleja campus. The dotted lined path in front of it shows the location of Melville Avenue before it was made part of the campus. (PAST adaptation of two official parcel maps.)
The original adress of the Castilleja Lockey Alumnae House was 211 Melville Avenue. The current parcel report shows dotted lines where Melville connected Emerson and Bryant before the street was closed off. Lockey Alumnae House is not a private residence.
Deemed potentially eligible for the California Register of Historical Resources by Dames and Moore in 1998.
---

E-mail us at either webmaster@pastheritage.org or president@pastheritage.org.

Palo Alto Stanford Heritage—Dedicated to the preservation of Palo Alto's historic buildings.