---
---
1020 High Street
Built in 1918
Photos taken April 17, 2018: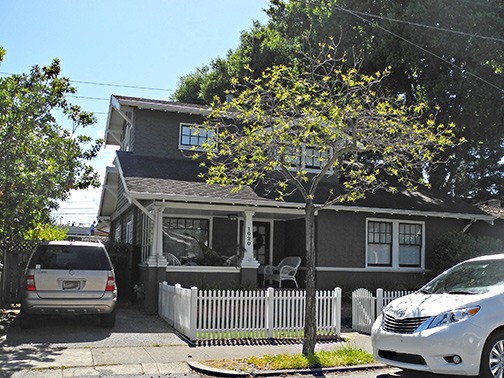 The following is from the 2018 plaque presentation:
This bungalow was built by John Dudfield at a cost of $2,500. Mr. Dudfield was a prominent businessman, a lumberman and builder, in the area, and built many homes in Palo Alto during this time period. Many of them were along High Street. His lumber company was located at 100 Forest Avenue; his own home still stands at 625 Hale Street. Dudfield harvested redwoods along the coast and transported them across the coast range to his lumber yard in Palo Alto. He suffered a stroke in 1925 and died four years later.
The home's first occupants were Carl and Rose Steffensen. Carl worked as a "meter tester" for the city. A snapshot of later owners reveals Frank and Annie Livermore in 1925; Livermore worked as a meat cutter. In 1936, Jean B and Julia Candovan, employees of the University French Laundry at 642 Ramona, occupied the house; Leona Candovan was the laundry's bookkeeper. In 1946, the family was still there.
Alan Peterson and Jane Stevenson are the current owners.
This house was deemed not eligible for the California Register of Historical Resources in 1998.
---

E-mail us at either webmaster@pastheritage.org or president@pastheritage.org.

Palo Alto Stanford Heritage—Dedicated to the preservation of Palo Alto's historic buildings.