---
---
370 Addison Avenue

Professorville Historic District
Built circa 1895
Photo taken June 2015:
Photo taken April, 2011 before restoration: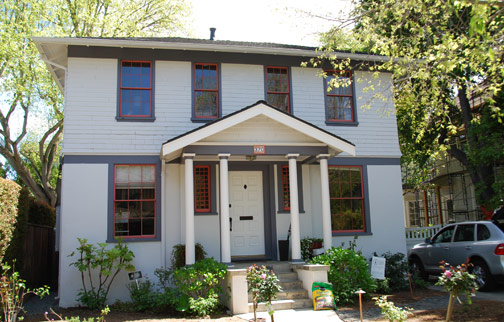 The following comments are from the 2011 presentation of centennial plaques:
This house was built in 1895. The Palo Alto Times of January 2, 1896 listed a building permit issued to Mrs. E.B. Bonnell for a residence in Block 58 (Addison and Waverley). The permit was for a residence to cost $1,320.
The city directory for 1897– 88 lists Mrs. E. B. Bonnell on Waverley, while in the 1900–01 directory, she is listed at 370 Addison. The home is part of the Professorville Historic District.
---

E-mail us at either webmaster@pastheritage.org or president@pastheritage.org.

Palo Alto Stanford Heritage—Dedicated to the preservation of Palo Alto's historic buildings.