Palo Alto Stanford Heritage
---
---
749 Wildwood Lane

Photo taken in 2008
The following is from the 2008 Holiday House Tour book:
This Edgewood jewel, built in 1956, has undergone two major renovations in recent years, the first to the kitchen and public areas, and the most recent addressing the bedrooms and a requirement for a home office. This very contemporary interpretation has addressed some of the drawbacks of the original Eichler design (low ceilings in some areas and a tendency toward gloomy corners) while being respectful of the progressive nature of the original.
Interior: Note the tall doors throughout.
Kitchen/Dining: The credenza is an old Eichler cabinet upper, modified with legs and a countertop. The eaves have been cut back at the kitchen window and replaced with trellis to allow for more natural light. Note original globe light fixtures.
Living Area: Tthe cinderblock fireplace face was sandblasted to uncover the original rosy coloring. Grey slate at the living room floor marks the latest addition; note the steel trellis above the tall sliding doors that offers morning sun protection during the summer months. Furnishings consist of a mix of custom and Ikea pieces.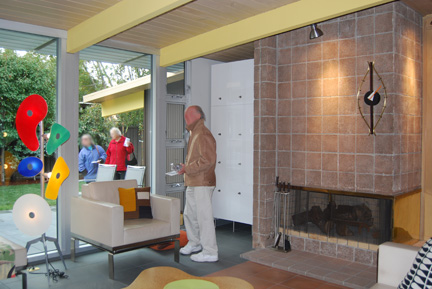 Small Bedrooms/Hallway/Bath: Note sliding doors to ceiling, clever storage units, and rich colors.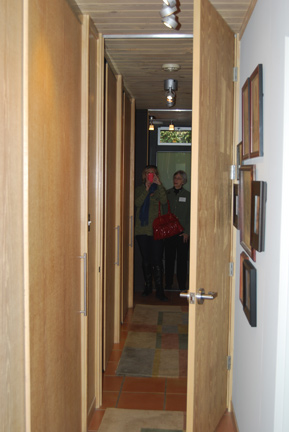 Office: Ikea and Vitra furnishings enhance this former Master Bedroom.
Master Bedroom: Part of the newest addition. The niche at the bedroom door provides a spatial transition, as well as a clever way to hide the radiant heating equipment. The wall behind bed is decorative as well as functional—it dampens traffic sounds.
Master Bathroom: Note exquisite fixtures and fittings.
Garden and Exterior: Note contemporary pavers, trellises, and geometric, abstract plantings.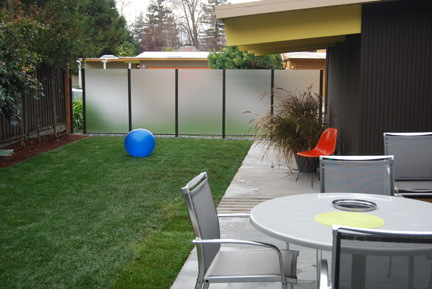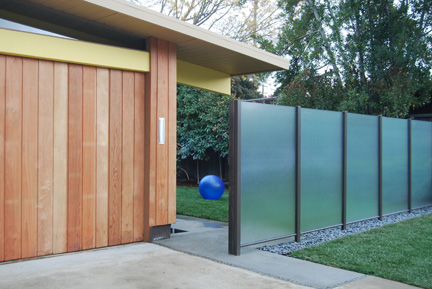 This home won a 2007 PAST Residential Preservation Award.
---

E-mail us at either webmaster@pastheritage.org or president@pastheritage.org.

Palo Alto Stanford Heritage—Dedicated to the preservation of Palo Alto's historic buildings.