---
---
353 Lowell Avenue
Centennial Home
Built in 1919
This house was built by Frances Rumsey Norton and her daughter Elizabeth.
The ladies had visited Palo Alto from the East in 1915; they loved the climate here and returned to build a home.
Mrs. Norton's husband James, a lawyer in Chicago, had died in 1896.
Elizabeth's sister Frances was married to Harry Brown, a Stanford professor in the Philosophy Department, who drew the plans for their house. The original concept for the house was "a delightful bungalow" but the plans grew, and the house currently has 3,572 square feet, 5 bedrooms and 3 bathrooms.
The lot is a third of an acre, and it was renovated in 1978.
At the time it was built Lowell was the last street in the city limits and was unpaved.
Elizabeth remarked that "people said nobody needed a furnace," but they added one a few years later.
Mrs. Norton died in the house on Feb. 3, 1933.
Her daughter lived on in the house until she moved to Channing House in 1965. She died August 7, 1985 at the age of 98.
Elizabeth was a well-known artist and a founding member of the Palo Alto Art Club, later the Pacific Arts League. Two of her bronzes are displayed at the Hoover Institution on the Stanford campus.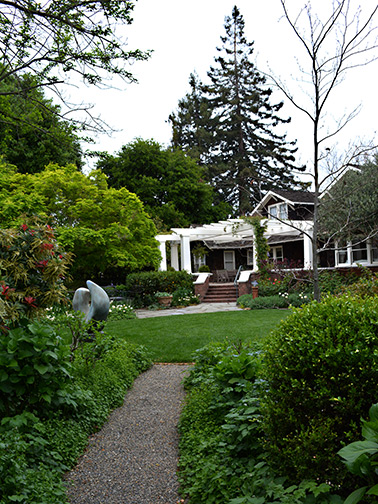 Photos taken April 15, 2019
This property was considered for inclusion on the National Register of Historic Places in 1998 and also deemed eligible for the California Register of Historic Resources.
---

E-mail us at either webmaster@pastheritage.org or president@pastheritage.org.

Palo Alto Stanford Heritage—Dedicated to the preservation of Palo Alto's historic buildings.