Palo Alto Stanford Heritage
---
---
Marcus Stedman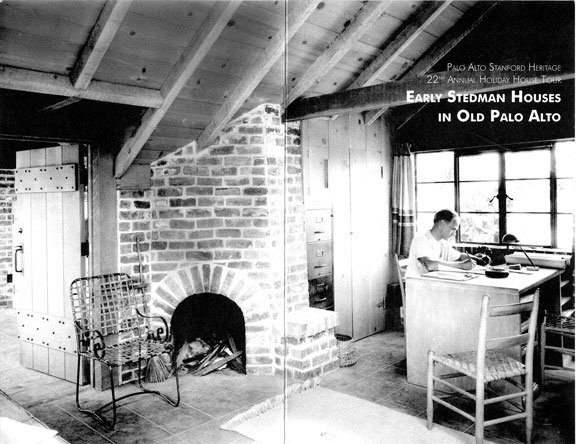 Marcus Stedman designed many dozens of homes between 1931 and the mid–1960s. He worked in a charming style reminiscent both of Carmel cottages and the early California Ranch house, featuring low shake roofs and artistically patterned brickwork on walls, fireplaces, and chimneys. He worked with Silvestre's Iron Works, of Allied Arts Guild fame, to incorporate wrought-iron door hardware, light fixtures, curtain rods, fireplace tools and screens. Another characteristic is his skillful use of wood: hand–hewn beamed ceilings show structure and style; exterior siding is wide and expressive with deliberate shadow lines. Always, the doors are wide wood with some embellishment.
He lived in the Old Palo Alto neighborhood of Palo Alto, bordered by Alma, Middlefield, Embarcadero, and Oregon Expressway. He designed homes for himself there, and also for many, many of his neighbors, so much so that many blocks are filled with his charming structures. He is not to be confused with Morgan Stedman, another influential Palo Alto architect working at about the same time. The two families were not related.
Early Years
Marcus Stedman, was born in Cincinnati, Ohio on January 23, 1906. His father, Arthur Stedman, was an architect originally from England, but ran his wife's family's manufacturing interests until they were sold. After that, the family decided to head west. They spent a year in Corvallis, Oregon, but found the weather trying, and moved to Palo Alto the next year in 1923. When the family didn't find a house to suit them, they started looking for a lot on which to build. Arthur designed the house, and contracted for a partially finished "shell" building. Arthur and his two sons, Marcus and elder brother James, worked to finish the house, build steps, and install hardware and light fixtures. Marcus attended Palo Alto High School, graduating in 1925, while James, two years older, attended Stanford.

While Marcus was in high school, his father purchased property at Fallen Leaf Lake. There Arthur designed and built a cabin over two summers with the help of the children and a few of their friends. This experience was a major inspiration to Marcus to pursue a career in architecture.
He graduated from Palo Alto High School, and attended the University of Washington, and in 1931 graduated with a degree in architecture. When Marcus returned to Palo Alto from school in June of 1931, there was still no building being done due to the depression, so he was unable to find work in an architect's office to do a formal internship. His father suggested that he use a lot owned by the family and design a house "on spec" to start his career. Located on Rinconada Street near Bryant, he completed the house with the help of a local builder and sold it in January, 1932. He continued building "on spec" and soon for private clients, and in fact never finished the internship required for an architectural license! (As is the case today, he wasn't required to have a license to design residences, but he couldn't legally call himself an architect.) The licensing board contacted him toward the end of a long career, in the 1960's, and announced that for a rather large sum of money they would allow him to be officially recognized as an architect. He declined.
Marcus Stedman married Mary Elizabeth Fisher in September 1936. They moved into their first home, dubbed "The Honeymoon Cottage", at 2280 Byron (number later changed to 2290). As their family grew they soon required a larger house, and moved to a new home next door at the new 2280 Byron. Marcus and Mary had two daughters and a son, and continued to live in the Byron house for the remainder of his life. Elizabeth later moved to the Sequoias for her final years.

Marcus Stedman's brother James (Jim) started working with him in 1934. Jim had graduated from Stanford with a degree in engineering in 1927, but after working for a few years in other fields, had become interested in building, too. Their firm was called Stedman and Stedman, Building Contractors, with Marcus specializing in the design work (though he did some contracting) and Jim focusing on the business of building (though several houses, such as his own at 2150 Byron, were of his own design). The houses on this tour were all designed and built between 1936 and 1939, by Stedman & Stedman. Besides Palo Alto, they also built in Atherton, Los Altos, Menlo Park, and San Francisco. They built a home for their parents in Carmel. Stedman and Stedman eventually completed over 60 residences. Marcus and James continued to work together until 1941, after which the war stifled the building industry. During the war years, Marcus worked in one of the many plants that sprung up to supply the war effort. Marcus and James collaborated on a few houses after the war, but soon went separate ways in their careers.

Stedman's designs were straightforward, unpretentious, and aesthetically pleasing. Homes feature solid, high quality, long lasting materials. They are recognizable by their use of used brick against over-scaled wood siding, with roofs usually designed with extra-long shakes. Living areas are directed toward back gardens and away from the street.
Additional characteristics of Stedman and Stedman homes are steel sash windows (considered very large at the time), random plank hardwood floors, and substantial built-in redwood book shelves, often near a wide window bench. An open-beamed ceiling in the living room is typical. Interiors walls are often wood paneled, finished with a transparent stain. Specifications sometimes call for a cement wash on rough–sawn wood. Another common feature is colorful handcrafted tile, often from Solon and Larkin in San Jose.
Post–War Years
Marcus Stedman continued to design houses until he retired in the mid 1960s. After the war, according to his family, he designed larger houses on more splendid properties, as the post–war boom increased wealth in the San Francisco Bay Area. Some of these homes were in Portola Valley, Woodside, Hillsborough and the Sierras. His work was featured on many occasions in publications such as Sunset Magazine and House Beautiful, and was featured on the cover of Better Homes and Gardens. During his retirement years, he and Elizabeth spent much time at the home he had designed for his parents in Carmel. He was an enthusiastic gardener, growing many of the vegetables and fruits for the family table. He enjoyed working with his hands, making a wide variety of items such as simple furniture, kitchen utensils, and children's toys. Marcus Stedman died on May 19, 1980.
Palo Alto Stanford Heritage hopes to complete more research on Marcus Stedman's post–war projects, as well as complete a comprehensive catalog of Stedman homes.
See photos of the five Marcus Stedman homes featured in the 2009 Holiday House Tour.
---

E-mail us at either webmaster@pastheritage.org or president@pastheritage.org.

Palo Alto Stanford Heritage—Dedicated to the preservation of Palo Alto's historic buildings.