Palo Alto Stanford Heritage
---
---
St. Thomas Aquinas Church—1902
751 Waverley Street
(recently renumbered from 745)
At the turn of the 20th century, Palo Alto was filled with the sound of hammers and saws as houses, businesses and churches were built. Saint Thomas Aquinas Church is the oldest extant church building from that era. Located three blocks south of University Avenue at the corner of Waverley Street and Homer Avenue, it stands at the northern edge of the historic Professorville neighborhood. Its distinctive Carpenter Gothic architectural style made it a signature building in the downtown area. Local Catholics, numbering about 100 and largely of Irish descent, had been holding services in a community landmark known as the "white house" at the corner of Lytton and Ramona.
The first step in fulfilling their dream of a permanent home was raising money to purchase a lot and it was a step taken by the ladies of the Church in August of 1901. A Palo Alto Times article noted that these women "worked like beavers" to raise $1,500 at a two day fair held at Fraternity Hall—still standing at University and High. By December 1901, the Archbishop released $12,000 and construction began. Shea and Shea of San Francisco were chosen as the architects and a Mr. McIntyre of Oakland. Frank Shea had attended the Ecole de Beaux Arts and his firm enjoyed a successful career with buildings such as the Bank of Italy, the Brasfield (Beau Sky) Hotel in Berkeley and many churches, including the Mission Dolores Basilica in 1918.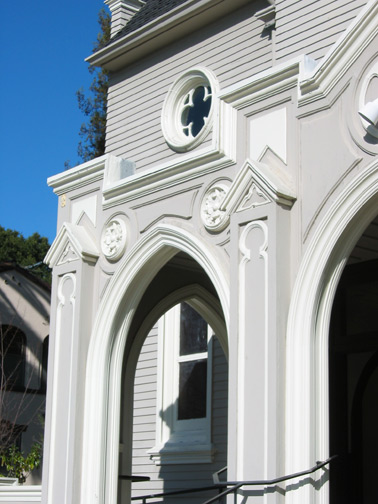 The artful tumult of Carpenter Gothic spires and arches envisioned by the architects is a smaller prototype of Nativity Church built a decade earlier in Menlo Park. Carpenter Gothic is a North American architectural style deriving from the Gothic Revival movement in 18th century England. The latter, executed in stone or brick, was intended to imitate the lofty, imposing cathedrals of medieval Europe. The 19th century American version adapted Gothic elements such as pointed arches, steep gables, and towers to traditional American light–frame construction. The abundance of timber combined with the invention of the steam powered scroll saw and mass–produced wood moldings allowed Carpenter Gothic to improvise and to emphasize charm and quaintness. While some Carpenter Gothic buildings are relatively unadorned, such as the Eldon, Iowa house that Grant Wood used for the background of his famous painting American Gothic, others, such as St. Thomas Aquinas Church are more splendid. The Church exterior, originally painted yellow, displays flamboyant carpenter Gothic motifs such as a prominent steeple, shiplap siding, repetitive bays with stained glass, steep gables, carved rosettes, parapets and quatrefoil windows.
The steeple and the pinnacles surrounding it have delicate mill work done by the Dudfield Mill in Palo Alto. A January 1902 Palo Alto Times article noted that a carpenter, Frank Sullivan "fell from the steeple to the ground" and, with the luck of the Irish, sustained only broken bones and bruises. Perhaps he was assisting in the installation in the belfry of a 1,500 pound bell, cast in Ohio, and noted for its clear and sonorous tone.
When parishioners attended the first Mass on June 4, 1902, they were surrounded by lustrous redwood and yellow pine woodwork, an arched ceiling finished with hammer beams and 80 angels—70 of which were cherubim. The exquisite, art glass windows, were installed five months later. The most unusual one, donated by the Greer Family, is round and depicts St. Thomas Aquinas, the patron saint of schools and the scholar to whom the church is dedicated—a fitting choice in a university town.
Visitors to this historic Church are invariably told that it was the scene of the funeral in the 1971 cult classic, Harold and Maude and of the famous line when 79 year old Maude whispers to 19 year old Harold "Pssst, want some licorice?" Fewer, perhaps, are told of its long, continuing tradition of intellectualism and liberalism which began as early as 1909 when Fr. Joseph Gleason was pastor from 1909–1928. Gleason, an authority on history, was a frequent lecturer at Stanford and befriended David Starr Jordan. Both men ardently supported Woman's Suffrage and spoke to that topic at Stanford, the Palo Alto Woman's Club and at National College Equal Suffrage meetings in San Francisco. ©
PAST July 12, 2013
---

E-mail us at either webmaster@pastheritage.org or president@pastheritage.org.

Palo Alto Stanford Heritage—Dedicated to the preservation of Palo Alto's historic buildings.