Palo Alto Stanford Heritage
---
---
United States Post Office
380 Hamilton Avenue

United States Post Office 380 Hamilton Ave, Palo Alto A 20,000 square foot building on .73 of an acre sits on Hamilton Avenue between Waverly and Gilman Streets. How it got there, why it looks as it does and what will happen to it make quite a story. Between May 31, 1892 and September 5, 1933, Palo Alto had seven post offices located in stores or rented office space. The City tried unsuccessfully three times to secure federal funding for a U.S. Post Office. By 1927, there were rumors of funding and also that a local architect would be hired. Enter Palo Alto's favorite architect, Birge Clark (1892–1989.)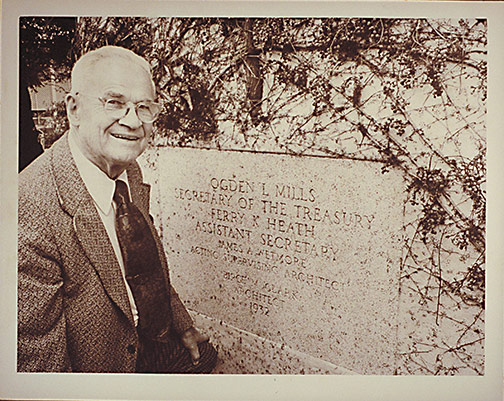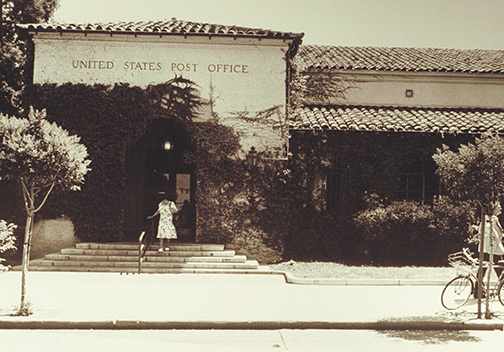 Born in San Francisco, Clark graduated from Palo Alto High School in 1910 and from Stanford in 1914. He received his Master's in Architecture from Columbia University. By 1919, he was assisting his Stanford professor father, Arthur, in collaborating with Lou Henry Hoover to design a Stanford campus home for the future president and first lady.
Clark opened his own architectural practice in Palo Alto in 1922. He was the town's sole architect until 1930. His brother David joined the practice in 1928 after receiving his Architecture Master's from Columbia. Clark says of this time, "We had a terrific start on everyone. I did a little bit of everything because there was so much to do." Clark designed 137 residences in Palo Alto and Stanford and 30 office buildings. More than 30 of his buildings are on Palo Alto's Historic Inventory and three are on the National Register of Historic Places, including the Hamilton Avenue Post Office. In 1929, the federal government finally allotted $180,000 for the building of Palo Alto's post office. The government paid $49,805 for the Stanford–owned property, although the actual price was $75,822. The difference was paid by subscription from 44 residents, churches and businesses.
Birge Clark was appointed as post office architect in 1931. Upon presenting his preliminary plans, federal officials objected to two things: the name was not the Palo Alto Post Office, it was the United States Post Office and the building's style was inappropriate for a formal federal building.
Whether Clark casually mentioned his luncheon engagement at the White House or whether he noted that the first lady had requested a building similar to those at Stanford, his plans were accepted in June 1932.
Clark's Mission Revival style building reflects California's Spanish heritage. This one–story, reinforced concrete building with its stucco exterior has a red tile roof graded from dark reddish brown at the ridge to a lighter, salmon color at the eaves. A recessed cloister is behind a series of arches fronting Hamilton Avenue. There are tile inserts above the cloister roof, and the cloister ceiling has a series of slanted concrete beams worked to resemble wood.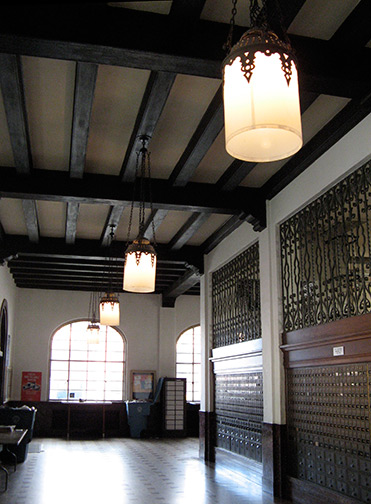 The interior lobby at 120' long and 15' wide has marble flooring and wainscoting. The latter is red marble, said to be the last of its kind from a depleted American quarry. Above the letter boxes and windows there is elaborate wrought iron grillwork which extends to the heavily beamed ceiling. Extensive ironwork is also seen in the lighting fixtures and in the exterior window grilles.
PAST February 15, 2013
---

E-mail us at either webmaster@pastheritage.org or president@pastheritage.org.

Palo Alto Stanford Heritage—Dedicated to the preservation of Palo Alto's historic buildings.