Palo Alto Stanford Heritage
---
---
419 Maple — 1929
Architect: Lesley Nichols
Maple is a common street name in American towns, evoking simplicity and apple pie. 419 Maple, on a secluded lot facing San Francisquito Creek, belies this stereotype. This two–story stucco house combines elements of the French Eclectic and Italian Renaissance Revival styles. It was built for Maude and Edwin Nichols in 1929 for $34,000. Edwin Nichols was one of the first mining engineers to develop Montana resources. While in Montana, he was active in preserving Yellowstone National Park. Nichols was also a pioneer in group insurance while working for New York Life Insurance in Chicago.
The Nichols family moved to Palo Alto in 1921 and commissioned their son, Leslie Nichols to design this house. Leslie was a New York based architect who later relocated to the Peninsula where he designed many public and private buildings and was the chairman of the San Mateo Planning Commission. Local, well–known architect Birge Clark was the on site architect. However, this house displays none of the Spanish Colonial style for which Clark was famous. Rather it is in the European classical revival style employed by Leslie Nichols in his Manhattan practice.
Approaching 419 Maple, we are struck by its formal, elegant lines. The hipped roof is slate, as is the roof on the porte–cochere. There are symmetrically placed casement windows at the main façade. First floor doors are French style, similar to the windows above. At the corners of each elevation are classically inspired quoins, and the upper story windows display a stucco keystone motif. The wood front door with its clerestory window leads to an entry vestibule with small, oval side windows. There is a second, interior glass door with a scrolled wrought iron inset.
An unusual, circular foyer greets the visitor. Its marble floor repeats the pattern of the original ceiling light. An oak paneled office whose fireplace has carved oak detailing and a green marble surround adjoins the foyer. Above the interior study door, is a charming canvas mural with a pastoral scene. A few steps down from the foyer is a breathtakingly elegant living room with a garden view. The grey marble fireplace, sconces and herringbone parquet floors are original. The wall trim and dentil molding are new and the original chair rail is expanded. Steps, columns and leaded glass doors lead to the dining room. The flooring, wallpaper, sconces and door paint plus a white marble fireplace with floral carving are original features of this room. The elegance of these formal areas leads seamlessly into the warmth of the kitchen and family room. The kitchen footprint is original but the dining area and family room are additions.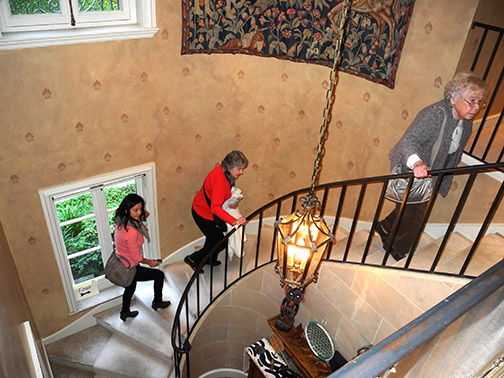 A brushed–metal, spiral staircase with limestone risers and treads leads to the 2nd floor where the master bedroom has a dramatic vaulted, groined ceiling reflecting the Italianate style of the house.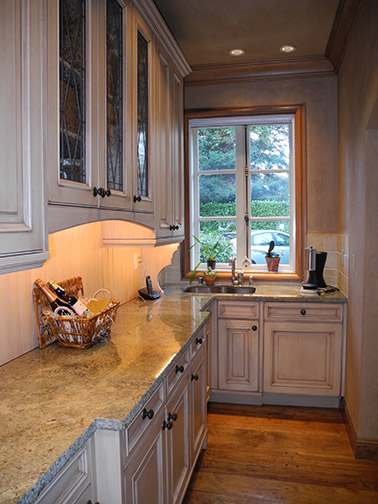 The innate beauty of this house and its sensitive remodeling have preserved 419 Maple for generations to come. It is currently eligible for Palo Alto's Historic Inventory. ©
Margaret Feuer
PAST, November 30, 2012
---

E-mail us at either webmaster@pastheritage.org or president@pastheritage.org.

Palo Alto Stanford Heritage—Dedicated to the preservation of Palo Alto's historic buildings.