Palo Alto Stanford Heritage
---
---
The Knoll—1915–1918
660 Lomita Drive, Stanford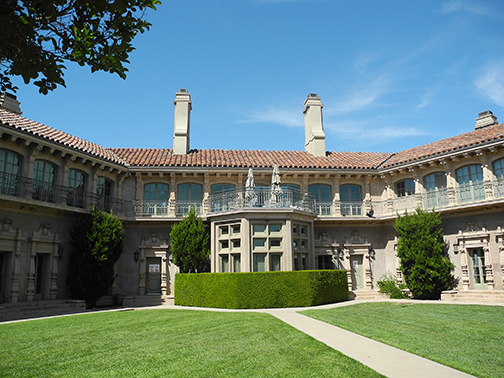 Variously described as a Spanish mansion, a Gothic fortress and a haunted castle, 660 Lomita Drive was built as the residence of Ray Lyman Wilbur. Although construction began in 1913, the year Lyman was elected Stanford's third President, World War I brought shortages of men and materials, delaying completion until 1918.
The prominent architect, Louis Christian Mullgardt (1866–1942) had been a draftsman in the Boston offices of Shepley, Rutan & Coolidge, the original campus architects. Between 1905 and 1920, Mullgardt designed residences and buildings in the Bay Area tradition and was appointed to the board of the 1915 Panama–Pacific International Exposition. He gained acclaim at this exposition for his Court of Ages, an ornate courtyard that included an altar tower on one side and, in 1916, for his design of the M.H. de Young Memorial Museum in Golden Gate Park. An innovative architect, Mullgardt was also a sculptor, artist and writer on architectural design.
Realizing that the Board of Trustees wanted the Wilburs' residence to serve as a reception center for major University functions and for visiting dignitaries, Mullgardt envisioned a monumental three–story, Spanish Gothic fortress shaped like a butterfly with canted wings embracing the knoll. At first the Board rejected Wilbur's wish to situate the building on Cemetery Hill, and not because it had been the site of a graveyard. Rather they balked at the $25,000 needed for approach roads, utilities, and drainage in addition to the estimated $92,000 construction cost. Ultimately, the Knoll site, on an axial alignment with Memorial Church and Palm Drive, was deemed appropriate for the new president's home.
The Spanish Colonial Revival architecture of the Knoll is an example of Stanford architecture's mirroring national trends between 1910 and 1931. Mullgardt had been exposed to this architectural style at international expositions in the late 19th and early 20th centuries, especially at the 1915 Panama–Pacific Exposition, which celebrated the completion of the Panama Canal. Spanish Colonial Revival architecture added Spanish Baroque and Colonial, Moorish and Churrigueresque characteristics to the earlier Mission and Pueblo Revival styles. Churrigueresque refers to elaborate stucco ornamentation introduced by the Churriguero family, which dominated Spanish architecture for forty years in the late 17th century. It was essentially a revolt against classicism.
The Knoll is a classic example of Spanish Colonial Revival architecture, with its combed pink stucco walls, low–terracotta tile roof, balconies, arcades, canvas awnings, Churrigueresque ornamentation and decorative iron.  A Roman arcade of three arches leads to three arched doorways at the center of the Knoll's façade. This dramatic entry is part of a highly decorated three–story bay. There are 5 windows above the arcade with elaborate plaster trim and iron balconies.  The 3rd floor has a continuous band of mullioned windows with modified arches.  Plaster half columns between them culminate in scrolled tops and draw one's eye to the carved eaves.
Recounting a happy childhood spent at 660 Lomita, Ray Lyman Wilbur Jr. notes that the first and second stories on the left were used for official occasions while the right side, particularly the second and all of the third floor, were for the family.  There were seven family bedrooms plus four for servants in addition to kitchens, studies, libraries and storage areas. Each bedroom had a sleeping porch on the inner courtyard for use on mild evenings. There were 12 bathrooms, 11 fireplaces, and eight chimneys, one of which was fake to provide exterior balance. The interiors and furnishings, designed by Mullgardt seem restrained compared to the Churrigueresque details on the exterior.  High ceilings with deep moldings, eighteen–inch baseboards, paneled doors and walls, columned marble fireplaces and sconces with a tulip and brass design are repeated throughout the formal areas. Ray Jr. recalled that "Uncle John" McLaren of Golden Gate Park fame designed the landscaping, which included a rose garden sloping down to Lake Lagunita, fruit orchards facing the Coast Range and a rolling green lawn in front.
The Wilbur family occupied the Knoll from 1918 until their father's retirement in 1943. Campus pundits ridiculed its architecture, with student cartoons depicting its extravagance and Herbert Hoover deriding it as "Portuguese Gothic". The Knoll, however, was an ideal venue for lavish presidential entertaining and was a symbol of Stanford's emerging prominence.  Its original, innovative and detailed design is a prominent example of Mullgardt's work. Despite being constructed of reinforced concrete in order to withstand earthquakes, the building's third floor was damaged in 1989. When reconstruction, which preserved the historical features of the Knoll, was completed it became home to the Center for Computer Research in Music and Acoustics.  ©
PAST, April 25, 2014
---

E-mail us at either webmaster@pastheritage.org or president@pastheritage.org.

Palo Alto Stanford Heritage—Dedicated to the preservation of Palo Alto's historic buildings.