Palo Alto Stanford Heritage
---
---
The Greer Farmhouse—1905
1517 Louisa Court

Palo Altans are familiar with the names, Rinconada, Greer Road, Seale Avenue and De Soto Drive but less so with Louisa Court. Yet, Louisa Court has a hidden treasure, a 1905 house that is linked with our earliest history.
Mexico took over Alta California in 1822 after defeating Spain. Vast ranchos were granted to ex–soldiers and friends of the Mexican governors. Grants were based on rough maps called disenos where creeks and large trees were used as border markers. Five ranchos bordered San Francisquito Creek.
Rancho Rinconada del Arroyo de San Francisquito was a 2,230 acre grant given in 1841 by Governor Juan Alvarado to María Antonia Mesa. It extended from the tall tree on the Creek south to Colorado Avenue and from the Bay to slightly west of El Camino. The name means "ranch at the bend in San Francisquito Creek." Maria and her husband, Rafael Soto, had lived with their family near San Francisquito Creek since 1835, selling goods to travelers and navigating the Creek with small boats to their wharf on Newell Road. Rafael Soto died in 1839 before formalizing the rancho grant, a task accomplished six years later by his wife, Maria Antonia.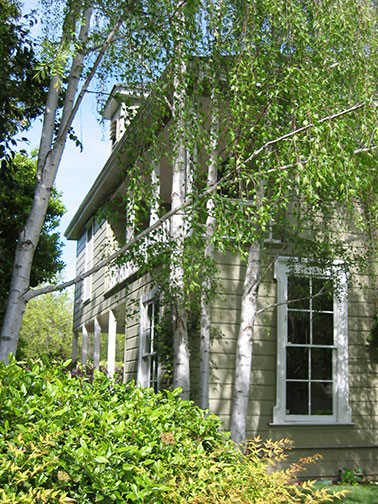 No rancho tale would be complete without a love story, or two. In 1839, Rafael and Maria's daughter, Maria Luisa, married a former British naval officer, John Copinger in a splendid, three day celebration. The couple lived on Copinger's grant, the 12,545 acre Rancho Canada de Raimundo (Woodside). Unfortunately, John died only eight years later, and his pregnant widow returned to her mother's rancho downstream.
Love story number two occurred one day in 1849. John Greer, an Irish sea captain, having decided not to join his crew in absconding to the gold fields, was exploring the southern part of the Bay in a small boat. With the proverbial luck of the Irish, he followed San Francisquito Creek inland and happened to meet the widow and heiress to two ranchos, Maria Luisa Soto Copinger. Marriage ensued and bliss was marred only by the fact that California had been ceded to the United States in 1846 after the Mexican–American War. Maria Louisa and John were required by the 1851 Land Act to file a claim for the Rancho Rinconada.
Initially rejected because of the vague description on the diseno, they reapplied and, with the help of Thomas and Henry Seale, the grant was finally patented to the Soto heirs in 1872. In compensation, the Seale brothers were given 1,400 acres of the rancho. 697 acres were later bought from the Sotos and Seales by Timothy Hopkins, Leland Stanford's agent, and became the town of Palo Alto.
One of the Soto heirs, Joseph F. Greer, the grandson of Raphael and Maria Antonia Mesa de Soto, decided to build a farmhouse at 1517 Louisa Court in 1905. The house originally faced Newell Road and boasted a gate of two massive redwood posts which were taken from the Soto's Woodside rancho after the 1906 earthquake.
Essentially a rectangle with touches of Classical Revival architecture, the house is shiplap redwood over a pine frame. A decorative balustraded porch, elongated windows, generous wooden window and door trim of simulated masonry as well as a hip roof with attic dormers provide a restrained elegance. A second storey corner porch is reminiscent of Monterey style. The original interior proclaimed affluence with a built–in glass–front china cabinet, library walls trimmed in gold leaf, carved panels in the main hallway and a singular mahogany banister and newel post.
Joseph Greer and his wife, Mary Haley, were active participants in Palo Alto life, celebrating their anniversaries with popular barbecues. Local children looked forward to Joe's weekend wagon rides in an old, wooden farm wagon—a wagon that was displayed for years in Town and Country's parking lot. The Greer family lived at 1517 Louisa Court until 1961, on land they had owned for over 126 years. Today, half hidden by the tract houses surrounding it, it remains a valuable link to our past. ©
PAST, March 15, 2013
---

E-mail us at either webmaster@pastheritage.org or president@pastheritage.org.

Palo Alto Stanford Heritage—Dedicated to the preservation of Palo Alto's historic buildings.