Palo Alto Stanford Heritage
---
---
The Gamble Estate—1902
1431 Waverley Street

The Gamble Estate is one of the last remaining Palo Alto properties to combine extensive gardens with a house authentic to the early 1900's.  This three story, 5,240 sq. ft dwelling, with its 1,075 sq. ft. carriage house, was called a "villa" when built in 1902 for $6,039.  As the first house south of Embarcadero Road, other than the Seale Ranch, it required special arrangements to hook it up to electricity.
Edwin Gamble, son of Proctor and Gamble's co–founder, his wife, Elizabeth and their children, James, George, Elizabeth and Launcelot, had moved to Palo Alto from Kentucky in 1901 when James entered Stanford University.  All three boys became Stanford grads, but Elizabeth, who had attended Miss Harker's Academy, graduated from Wellesley in 1910.
Returning to the family home after college, Elizabeth developed a passion for gardening.  As a child, she had ridden her pony around the property, but now she plowed up the old pony ring and orchards, replacing them with flower beds.  The gardens soon boasted a world–class collection of irises and roses, as well as rare trees such as a Chinese Chestnut tree, an Empress tree and a Weeping Crabtree.  Many irises, her favorite flower, still bloom there.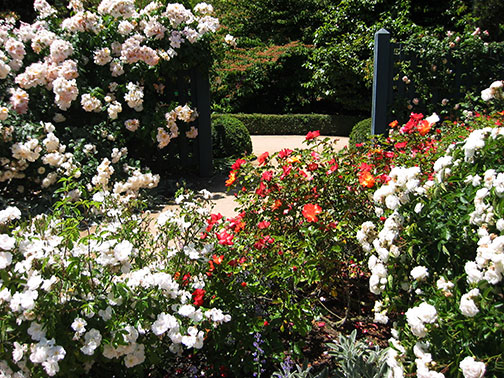 Known for wearing flowered dresses and for sharing her garden flowers with all, Elizabeth took a special interest in young girls, fostering their friendship and providing "loans" so that they could attend college.  Upon her father's death in 1939, Elizabeth inherited the estate.


C. A. Bates, a well–known San Jose contractor, built 1431 Waverley in an eclectic style of New England Colonial Revival and Colonial Georgian Revival.  A 1904 issue of the Overland Monthly featured the house as one of four "Artistic Homes of Palo Alto."
A central hallway and fireplace in each room, with their heat-conserving chimneys in the interior walls, are characteristic of the New England style. Georgian elements are seen beneath the eaves, with a cornice decorated in a classical course of dentil molding.  Below that is a frieze or band of wood siding simulating a stone band of masonry.  The narrow clapboard exterior was formed by cutting in half a single piece of siding.  A living room window has the "Palladian" motif, still popular today, which was adapted from Roman buildings by Italian architect, Andrea Palladio (1505–80).
The ground floor originally included an entry hall, living room, dining room, music room, library, kitchen and pantry, office, bath and a lattice porch off the library.  The center stairs rise from the large entry hall to the 2nd and 3rd floors with a total of 7 bedrooms and 2 bathrooms.
Well known local architects enlarged and adapted the original architecture.  In 1937–38, Charles K. Sumner extended the north and south sides of the house.  Elizabeth commissioned a teahouse, designed by landscape designer, Allan Himes Reid in 1948 so that guests could gather in the middle of the garden for refreshments.  The front porch was modified in 1953 by architect Leslie I. Nichols.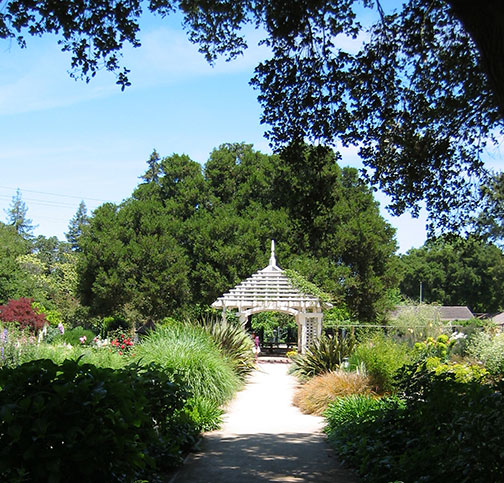 Elizabeth Frances Gamble bequeathed her house and garden to the City of Palo Alto in 1971 with the stipulation of a life estate for her and her brother, George.  Upon her death in 1981 at age 92, the City began four years of deliberation, sometimes referred to as the War of the Roses, on proposals from competing groups. The lease was finally given to the Garden Club.
The non–profit Elizabeth F. Gamble Garden Center today honors the spirit of Miss Gamble by maintaining her beautiful estate and furthering horticultural education and community involvement. ©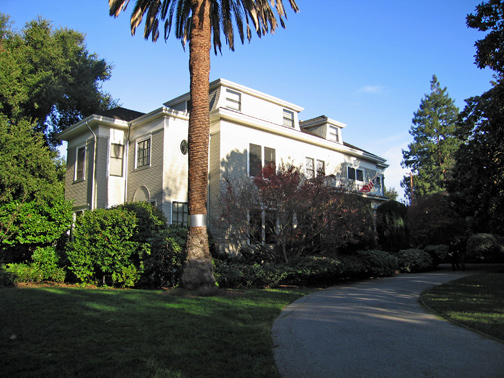 PAST, August 16, 2013
---

E-mail us at either webmaster@pastheritage.org or president@pastheritage.org.

Palo Alto Stanford Heritage—Dedicated to the preservation of Palo Alto's historic buildings.