Palo Alto Stanford Heritage
---
---
Escondite Cottage — 1875
150 Comstock Circle, Stanford
Photos of Escondite Cottage are from the Stanford University Library Collection.

The Bay Area's original inhabitants, the Ohlone, or western people, lived by hunting, fishing, and gathering. Herds of elk and antelope dotted the hills. Grizzly bears lumbered down to the creeks to fish for silver salmon and steelhead trout. One explorer noted that geese, ducks, and other birds rose in thick clouds from the marshlands "with a sound like that of a hurricane." Change came to this Eden in 1769 when Gaspar de Portola led an expedition of soldiers and priests to colonize Alta, or Upper, California for Spain and to convert the indigenous population. Portola's arrival ushered in the era of the Californios. Both Spain and, later, Mexico gave large land grants, called ranchos, to individuals in order to encourage settlement of the area we now refer to as Silicon Valley. By the mid–19th century, these ranchos had been whittled down by inheritance, the sale of parcels, squatter's rights, court disputes and the influx of white settlers. Towns sprang up where ranchos had sprawled. On one of these former ranchos, Rincon de San Francisquito, and near the town of Mayfield in South Palo Alto, sits Escondite Cottage which Peter Coutts built in 1875.
Coutts, a Frenchman whose real name was Jean Baptiste Paulin Caperon, arrived in San Francisco in 1874. He rented a house at 1515 California Street, near Governor Leland Stanford's mansion. Coutts' invalid wife, their two children, their governess, Mlle. Eugenie Clogenson, and his rare book collection soon joined him. In April 1875, Coutts purchased a farm of 1,400 acres for $90,000 from two Mayfield residents, William Paul and Delavan Hoag. The land abutted present day College Terrace on three sides and stretched from Page Mill Road west to the Quad and from El Camino Real to the foothills. Strangers in a small town always arouse interest, but Monsieur Coutts presence in Mayfield enthralled the townspeople. His manner was dignified, gracious, but reserved. The last trait led to rampant speculation as to his "provenance"—especially when he began spending huge amounts of money to turn his land into a showcase farm and ranch.
Picture map courtesy of Sunny Scott
Coutts originally named the property Ayrshire Farm, but, warming to the local culture, he changed it to Matadero Ranch, after a creek boundary. His house was called Escondite, meaning hidden, and its architecture is a combination of Victorian Gothic and Italianate.
The living room or parlor ran the full width of one ell while the kitchen and dining room occupied the shorter part of the ell. All the rooms opened onto a narrow hall. Interior walls were of native redwood covered by French chintz with pastel shaded designs on a gray background. Coutts let it be known that this board and batten cottage was intended as temporary lodging until he could erect a chateau—perhaps on the hill where Paul Hanna later built his Frank Lloyd Wright house. Coutts took secret delight at local rumors that the cottage was a California Trianon built for Mlle. Clogenson, his supposed mistress.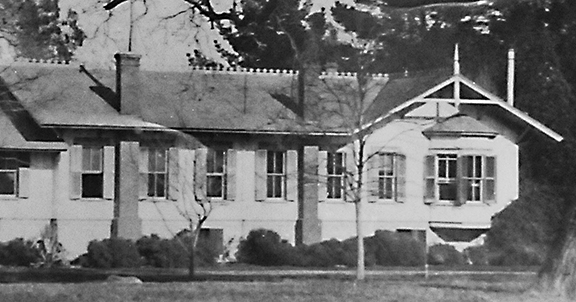 If Coutts' house was temporary, his other Matadero Ranch projects were lavishly permanent. By summer of 1876, he had already established a trophy–winning dairy farm. Five huge wooden barns housed his 150 Ayrshire and Holstein–Friesian cattle. Each cow wore a leather collar with a melodious Swiss bell bearing its name. Coutts was not without humor, as one huge, black ox was named "Monsieur le Curate."
The Buttery before and after conversion. (Photos of the buttery and library from the PAHA Archive.)
The buttery, made of brick for temperature control, can still be seen at the campus Hacienda Apartments; it produced up to 8,000 pounds of hand–churned butter monthly. Next to the cattle in Coutts' affections were the fine horses he bred. One stallion, imported from England, cost $100,000. His race track was located between his cottage and El Camino, where Stanford Airport was later built. Matadero Ranch's surrounding acreage was planted with wheat, oats, corn and fruit trees. Processed grapes from the vineyard stocked his wine cellar. As in his native France, poplar and pine trees lined the roads and fields.


Coutts was gentleman farmer of statewide renown but he was also a well-educated bibliophile. In the fall of 1876, he built a three–story tower of brick and wood topped by a Normanesque, four-sided steeple, which had three narrow Gothic dormer windows on each side. There he housed his valuable collection of old classics, including 800 Elzevirs. An unfortunate restoration of this "Tower House" can be seen at 860 Escondido Road. Unlike other, wealthy estate owners, Peter Coutts won the hearts of local workers through acts of kindness and generous, year round wages. How then did his life engender wild and sinister tales? Stay tuned and all will be revealed. ©
PAST, October 18, 2013
---

E-mail us at either webmaster@pastheritage.org or president@pastheritage.org.

Palo Alto Stanford Heritage—Dedicated to the preservation of Palo Alto's historic buildings.