Palo Alto Stanford Heritage
---
---
2275 Amherst Street, College Terrace
Stanford University opened in 1891. Two years later, this exuberant and important example of the Queen Anne style was built. The term, Queen Anne, was coined in late 19th century England to describe the grafting of classical ornamentation onto buildings of basically medieval form.
The first owner of 2275 Amherst was Walter Miller, a Professor of Latin and an original member of Stanford's faculty. Another early owner was Michael Carney, mayor of Mayfield, known as "an ardent advocate of good roads and improvements."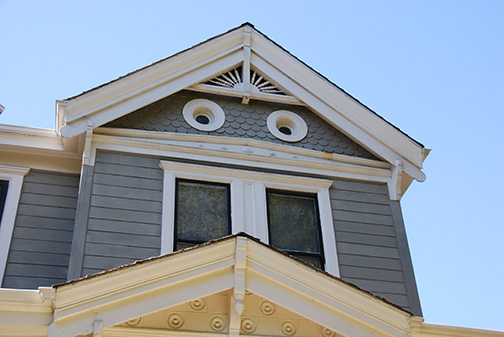 This architecturally significant building was originally situated on a corner lot facing what was California Avenue when that street ran from El Camino Real to Amherst Street.
It is possible that the house was originally built as a "come–on" or model home by the developer who hoped to fill his College Terrace sub–division with "handsome residences" for faculty members and fraternities.
Situated on one half acre, this two–story house, offers a multitude of exterior embellishments: the spindles at the peak of the side gable, the scalloped shingles, the belt course between the first and second stories and the brackets over the bay windows with fan-like carving and pendant at the corner. The rectangular corner tower has a pyramid roof. The front of 2275 Amherst offers a fantasy of three gables: the main one with its window eyes, spindles and shingles; a false one with medallions; and, finally, one over the porch with concave medallions and an acorn pendant. A profusion of decorative spindles, brackets and columns, sometimes called "gingerbread", are more appropriately termed "millman's folly" as they express a carpenter's irrepressible delight in using the motor–driven lathe. The interesting massing of forms and fine ornamental detail all contribute to the house's architectural importance.
From 1976 to 2012, the owners painstakingly refurbished and, where necessary, restored both the exterior and interior. Inside, original windows, moldings, sliding pocket doors and the staircase co–exist with Pirelli flooring, an award winning master bathroom remodel and vibrant colors. A gracious, wrap–around porch overlooks the park like garden replete with century oaks, fruit trees, vegetable boxes, roses and a small pond.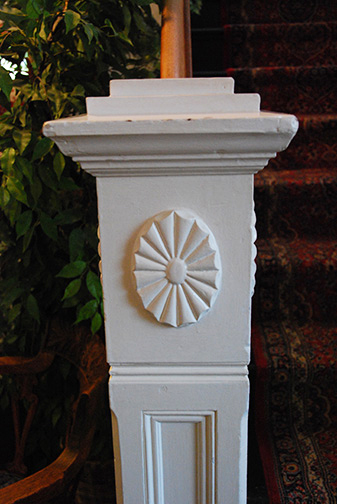 The beauty and grace of this 119 year old house adds not only to the character of College Terrace but to the City of Palo Alto as well. It is a testament to the fact that historic preservation can nourish our lives and inform our future. 2275 Amherst Street is listed on Palo Alto's Historic Inventory.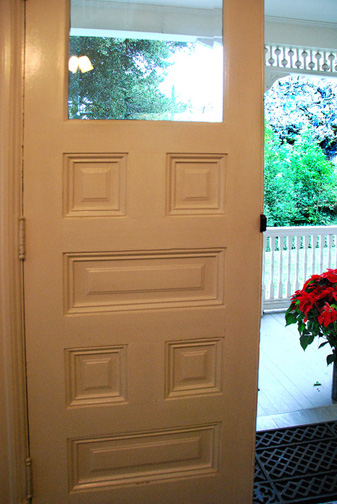 Provided by Margaret R. Feuer, President of Palo Alto Stanford Heritage, a non–profit organization which advocates for the preservation of historically significant architecture, neighborhoods and culture in the Palo Alto–Stanford area. ©
PAST August 24, 2012
---

E-mail us at either webmaster@pastheritage.org or president@pastheritage.org.

Palo Alto Stanford Heritage—Dedicated to the preservation of Palo Alto's historic buildings.