Palo Alto Stanford Heritage
---
---
The Kathleen Norris House
1247 Cowper Street
A superb example of the Spanish Colonial Revival style, 1247 Cowper Street is listed on Palo Alto's Historic Inventory and on the National Register of Historic Places. At 9,249 square feet on 0.9 of an acre, the house cost almost $100,000.00 to build in 1927. Familiarly known as the Norris house, it was designed for Kathleen Norris, a popular novelist and her husband, Charles Norris, an author. The Norris' bought the lot and the house on the property from Frank Thiele, an Austrian tailor who had opened shop in Palo Alto in 1897. They hired architect, Birge Clark (1893-1989) after they had admired a house he designed at 420 Maple Street.

The Spanish Colonial Revival style, also called Spanish Eclectic, California Colonial or Early California, was pioneered by Bertram Goodhue in Southern California and by George Washington Smith in Santa Barbara. It became Clark's signature style and, 1247 Cowper, his most elaborate endeavor. The basic form of the two story building is a large U embracing 3 sides of an entry courtyard whose remaining side is walled against the street. Characteristics of the Spanish Colonial Revival style are low foundations, thick walls, deeply recessed main entrances, wrought iron and plaster grill work, tile roofs and both decorative and functional balconies. In Clark's work we see a fondness for large expanses of wall and carefully irregular fenestration. Intimacy with the outdoors is achieved by having main rooms open onto an internal patio.
There are those who believe that Clark cared more about the technical aspects of design and less about aesthetics. Some say that it was his brother and partner, David who was the impetus behind the elaborate wrought iron and tile. However, in his 1982 memoir, Birge waxes rhapsodical about the ironwork on the Norris house which was executed by Herman Bleibler in his Page Mill Road shop.  Describing it as "really outstanding" and "irreplaceable," he noted that "all the little curlicues have been hammered so they are splayed out. There are little spirals like the tendrils of a vine."
Clark also had high praise for the Norris' tile artisan, Solon whom he describes as both "a character and a marvelous artist–artisan." During construction, Solon erred and was unable to produce a promised tile shipment. He wrote to Clark:
It is with heavy heart and sore vexation of spirit that I write this letter, for that which we have greatly feared has come upon us, my pride is trampled in the dust. I can scarce find words ominous enough to describe this foul catastrophe. Compared to my position, Job, sitting on his dunghill is in a bed of roses, the despair of Napoleon before Moscow only a minor irritation, and they who searched for the Holy Grail were merely hunting colored Easter eggs compared with my labors. However, all is not lost.  … I am sending you a (new) sample, packed in swans down and secured with a golden cord. I await your word, trembling upon the lip of expectancy.
Construction snafus often lead to banishment without pay for the perpetrator. Who would not have forgiven Solon?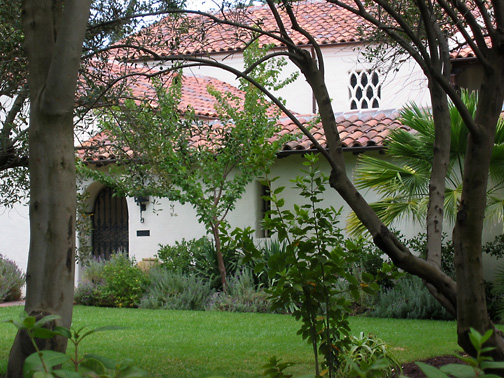 It seldom happens that a single architect is so influential that his work actually provides a major component of the image of a city.  Birge Clark, who graduated in 1917 from Columbia University School of Architecture, conducted his long practice almost solely in Palo Alto. His hand can be seen in a wide range of buildings. His early California style, in particular, provides a consistency between the downtown commercial area and the residential neighborhoods of the town. ©
PAST, September 13, 2013
---

E-mail us at either webmaster@pastheritage.org or president@pastheritage.org.

Palo Alto Stanford Heritage—Dedicated to the preservation of Palo Alto's historic buildings.