Palo Alto Stanford Heritage
---
---
Palo Alto Stanford Heritage Timeline
A Timeline of Preservation in Palo Alto:
The 1987 – 2017 History of Palo Alto Stanford Heritage
Forward: When President Lyndon B. Johnson signed The National Preservation Act of 1966, he did more than establish the National Register of Historic Places. He inspired preservationists across the nation to preserve the historical and cultural foundations of their communities. Palo Alto was no exception.

1968 — The publication of …Gone Tomorrow? was Palo Alto's first historic preservation effort. The American Association of University Women (AAUW) volunteered to compile a list of historic structures as a way to celebrate Palo Alto's 75th anniversary in 1969. It took a year of intense research by fifteen members to compile the list. Architect Birge Clark and long time resident Al Weery were invaluable resources. Gail Woolley, Paula Pugh and Kennie Winter spent two years together writing and formatting the 64 page book. Published in 1971, ...Gone Tomorrow? raised awareness of the value of Palo Alto's architectural past.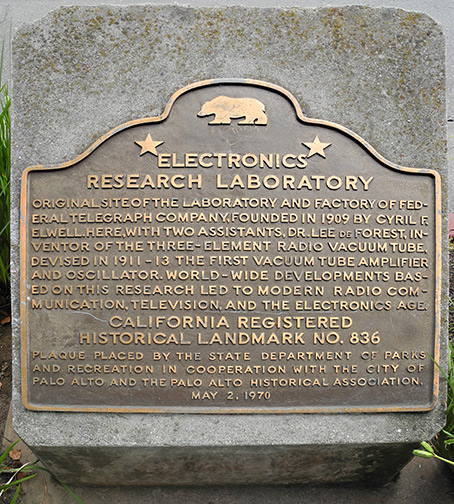 1970 — The Lee de Forest Laboratory 913 Emerson Street at was listed on the California Register of Historical Resources.




1971 — The landmark Squire House at 900 University Avenue was slated for demolition. This Classic Revival house was designed by San Francisco architect, T. Patterson Ross in 1904. Mayor Kirke Comstock appointed Gail Woolley to chair A Citizen's Committee to Save the Squire House. From 1972 to 1973, the committed raised $90,000 through a generous donation by Ruth Squire Beaver and a Decorator Showcase chaired by Marty McMichael. The house was given to the City but zoning laws precluded its use as a public facility After spending $118,000 on seismic retrofitting, the City sold the house to a private buyer for $135,000. The sale included a façade easement which prohibits changes without City approval to the exterior including the 23 palms lining the circular driveway. The house is further protected by the Mills Act which provides a property tax break to owners as long as they allow an annual public tour and do not alter the interior without City approval. The house was listed on the National Register of Historic Places in 1972.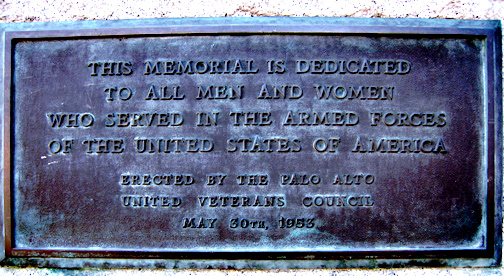 1974–1980 — One of the longest preservation efforts began in 1974 when Palo Alto's City Manager recommended that the City owned Veterans Building at 27 Mitchell Lane (formerly The Hostess House and currently MacArthur Park) be demolished because of its deteriorated state. A Citizens Advisory Committee was formed in an effort to preserve this fine example of Craftsman architecture by noted architect, Julia Morgan. The historian and preservationist, Dorothy Regnery successfully applied for California Historic Landmark and National Register status which were granted in 1976. Five years were spent studying various preservation alternatives. Finally, Councilperson Anne Rodgers Witherspoon proposed that the building be leased to a party who would rehabilitate it. Developer Bill Cox undertook the rehabilitation for less than the City's estimate by taking advantage of the Federal Tax Credit available to income producing historic buildings listed on the California Register. Cox sub-leased the structure to MacArthur Park Restaurant. Since Palo Alto owned the building and Stanford owned the land, this was a beneficial deal for all including developers and preservationists.
1976 — The Downing House, an elaborate Queen Anne style at 706 Cowper Street, was built in 1984. After standing vacant for several years and having been severely damaged by fire, the City ordered its demolition. Dorothy Regnery succeeded in nominating it to the National Register which caused the City to delay action. The owner, Florence Walsh, rehabilitated the building which is currently houses offices.
1979 — It was obvious that a more organized approach to saving Palo Alto's patrimony was needed. The City obtained a matching grant from the state to conduct a professional field survey of historic structures. Consultants, Paula Boghosian, architectural historian and John Beach, consulting architectural historian were hired. Results of this study became the Historic Inventory of Palo Alto (HI). Published in February 1979, the Inventory Iisted 450 houses primarily north of Embarcadero Road and in College Terrace. It categorized them according to architectural and historical merit from 1 through 4. The consultants also submitted applications for five structures on the Historic Inventory plus the Professorville Historic District to be listed on the National Register.
1980 — Betsy Crowder, a City Associate Planner oversaw the Historic Preservation Ordinance which was adopted by the City Council. The ordinance mandated a review by the newly established Historic Resources Board (HRB) of any exterior changes to Historic Inventory buildings in Categories 1 and 2. Members of the first HRB were Chair Gail Woolley, Birge Clark, James Stone, Elizabeth Kittas and Robert Nerri. The HRB is a volunteer group appointed by the City Council and supported by a liaison from the Planning Department and the Council. Compliance with the HRB's suggestions, which are based on the United States Department of Interior standards, is, however, voluntary. A homeowner's decision to demolish an historic building can be delayed by the City for up to one year. Gail Woolley believes the HRB to be effective despite its voluntary aspect while Historian Steve Staiger considers that making preservation voluntary is "…why we have some of the problems that we've had.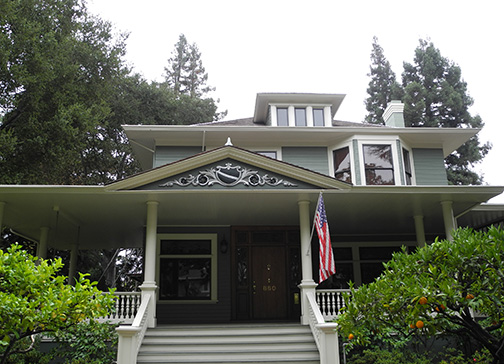 1980 — The Professorville Historic District, the Peck-Wilson House, the Pettigrew House, the Norris House and the Pedro de Lemos House were listed on the National Register.
1980–1984 — During his tenure on the HRB, James Stone provided an invaluable tool for researchers of historic houses. Using building permits printed in the Palo Alto Tribune, he constructed a street-by-street inventory of houses built in Palo Alto as well as compiled reverse directories from old phone books. In 1986, Stone received the Tall Tree Award for his preservation work.
1981 — HRB members researched and wrote detailed walking tour brochures for Professorville and College Terrace.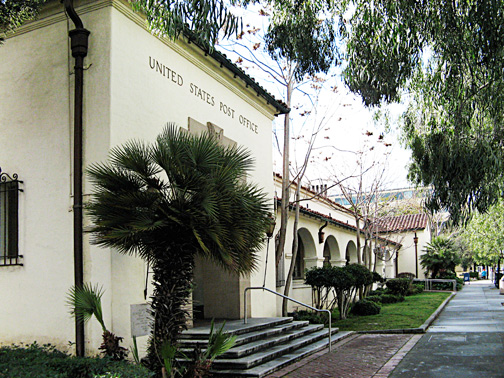 1981 — The Hamilton Avenue Post Office, designed by Birge Clark in a Spanish Colonial style, was listed on the National Register of Historic Places.
1982 — The Dunker House was listed on the National Register of Historic Places.
1985 — The first property to be placed on the National Register of Historic Places at the owner's request was the Eastlake style Kee House at 2310 Yale Street. Believed to be the oldest existing residence in College Terrace (1988), it had been divided into apartments but the exterior was unchanged. The owner took advantage of the Recovery Tax Act of 1981 which allowed a tax credit for rehabilitation costs of income producing historic properties listed on the National Register.
1986 — A California Registered Historical Landmark plaque was placed at the site of the suffragist Sarah Wallis' house on La Selva Avenue in Barron Park.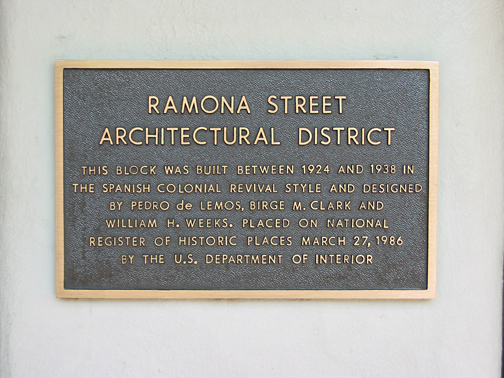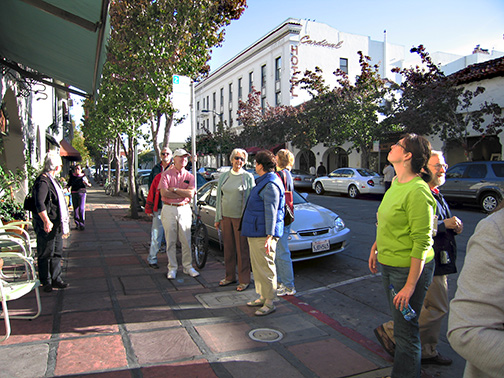 1986 — The HRB researched and successfully applied for the Ramona Street Architectural District to be placed on the National Register. This district is a primarily commercial area that was nominated and later placed on the National Register under Criterion C, in recognition of its architectural value. The architecture of the area is characterized by Spanish Colonial and Early California styles with gentle archways, wrought iron work, tile roofs of varying heights and courtyards. Structures in this district include 520-526 Ramona Street built in 1925. Known originally as the Gotham Shop, this building won the Palo Alto Stanford Heritage Preservation Award in 2008.
1986 — The City passed an ordinance prohibiting demolition of Category 1 and 2 historic structures in the Downtown commercial zone. To compensate owners for potential loss of property value, a Transfer of Development Rights (TDR) program was initiated allowing these building owners to sell unused square footage.
1987 — The Palo Alto-Stanford area was selected by the California Preservation Foundation for its State Conference in May 1989. A task force of eighteen preservationists convened and, after a year of planning, staged a very successful two day event in Palo Alto and at Stanford. (Members of the Task Force were Ken Alsman, Noel Blasé, Betsy Gifford, Jon Gifford, Elizabeth Kittas, Linda Northway, Susan Sweeney, Gail Woolley, George Zimmerman, Pipkin, Lathrop, Manning, McGuire, Winbigler, Castro, Gray, Kidder.)

The Preservation Conference task force realized the need for a permanent local preservation organization. Using the net proceeds from the State Conference, they founded Palo Alto-Stanford Heritage (PAST), a non-profit 501c3 organization. The mission of PAST was to advocate for the preservation of historically significant architecture, neighborhoods and culture in the Palo Alto-Stanford area.
1988 — This year marked two major accomplishments for the newly formed PAST: In December. PAST held it's first Historic House Tour it saw the addition of thirteen historic structures to the National Register of Historic Places.
1989–1990 — PAST organized a docent training class for 20 volunteers who would conduct weekly tours of Professorville and Downtown Palo Alto. The training was organized by Susan Sweeney, Gail Woolley and Linda Northway. These highly popular tours necessitated a second class in 1990–1992.
1990 — In 1983, private developer Charles Keenan had rehabilitated the 1898 Fraternal Hall building by taking advantage of Federal Historic tax credits to lower construction costs. Located at 514 High Street, this Renaissance Revival building with Spanish baroque overtones was designed by San Francisco architect Samuel Newson.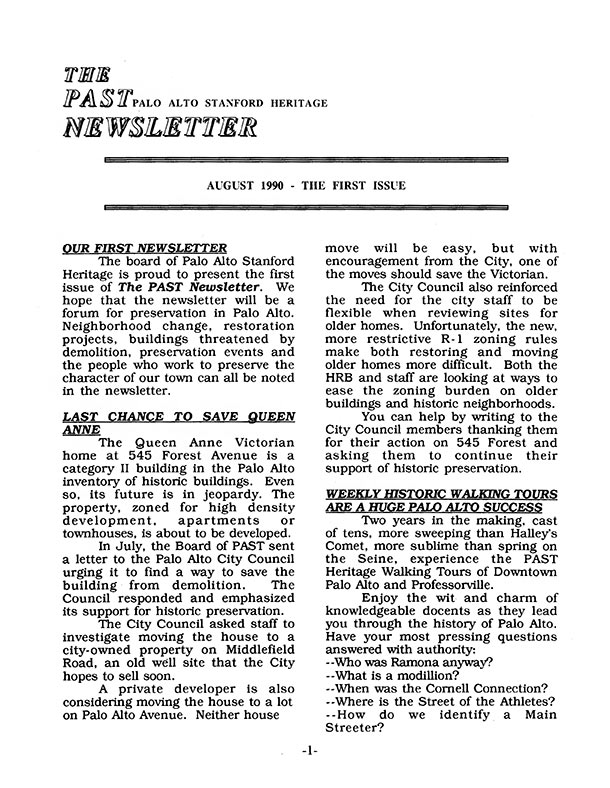 1990 — PAST publishes its first Newsletter.
1991 — The University Avenue Train Depot was listed on the National Register of Historic Places.

A California Registered Historical Landmark plaque was placed at 844 Charleston Road, the site of the co-invention of the Integrated Circuit.
1994 — To celebrate Palo Alto's Centennial, the City gave bronze plaques to 100-year old houses, a tradition which PAST assumed in 1996 and which it continues to this day. These plaques are presented to the owners of the birthday houses at PAST's Preservation Week Celebration in May of each year. Also, to highlight the contributions of women and their historic houses, Margaret R. Feuer edited Famous Women of Palo Alto: A Walking Tour.
Dennis Backlund, a Palo Alto native, led the fight to save the Varsity Theatre from 1996-1999. He then served on the HRB from 1996 to 1999. By 2000, a staff position, Preservation Planner was created by the City and Dennis Backlund was hired to fill the post. He held this position with distinction for fourteen years.
1995 — Former HRB and PAST Board members, James Stone and Linda Northway produced a comprehensive walking tour brochure for Downtown.
1996–2000 — An alarming increase in the number of houses being demolished and replaced by "McMansions" led the City Council to pass an interim Historic Ordinance to preserve potentially historic residences built before 1940. Although not formally listed on the Historic Inventory, alteration of these residences under this ordinance would require historic merit screening by city staff.
1997 - Before permanently updating the Historic Ordinance, the City, in 1997, commissioned a citywide survey of 6,600 properties built before 1948. The consultants Dames and Moore, Inc. were chosen to determine how many of these properties were potentially eligible for listing on the National Register and/or the California Register of Historic Places. Preservationist Beth Bunnenberg and former PAST President, Nancy Huber, who were trained by Dames and Moore, headed a committee of 125 volunteers, most of whom were PAST members, to compile historical assessments. Hours were spent photographing structures and researching City directories, obituaries and newspaper files for information on the residents and architects of these houses. Completed on January 22, 1999, the Dames and Moore survey showed potential eligibility for 287 houses for both the National and California Registers and an additional 1,789 for the California Register.
1999 — The Council passed the Revised Preservation Ordinance in 1999. The Ordinance added 200 new houses to the Historic Inventory and made compliance mandatory, not voluntary for those Category 1 and 2 houses which had been on the Inventory since 1980. To compensate for this regulation, owners received benefits such as increased floor area ratio.
2000 – Those residents who had objected to the Historic Merit Screening process imposed by the City's 1996 Interim Ordinance now objected to the addition of 200 more houses to the Inventory in the 1999 ordinance. They successfully "referended" the new Ordinance in March 2000. Palo Altans were not prepared to accept the designation of houses built before 1950 as historic, a designation viewed as detrimental to housing values.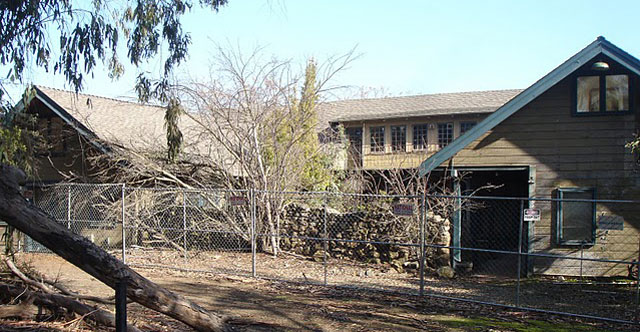 1997–2011 — The oldest house in Palo Alto was built in 1847 by Juana Briones y Tapia de Miranda. Briones, legally separated from her husband, was a businesswoman, midwife, humanitarian and the mother of eight children. The effort to save her wooden-cribbed house of tamped earth at 4155 Old Adobe Road from demolition preoccupied The Juana Briones Heritage Foundation from 1997 to 2011. The PAST Board provided financial support towards the legal fees accrued from lawsuits and appeals which amounted to more than $10,000. In 2008 PAST member Jeanne McDonnell published a definitive biography, Juana Briones of Nineteenth-Century California. Even the listing of the house on its Eleven Most Endangered List by the National Trust for Historic Preservation failed to prevent the demolition of the house in 2011. To salvage something from this defeat, the PAST Board, under President Scott Smithwick, contributed $4,000 towards the removal and preservation of a section of the tamped earth wall from the original structure. This wall section was displayed at the California History Museum and will, hopefully, find its final home in the Palo Alto History Museum. A plaque, placed by the Juana Briones Heritage Foundation in nearby Ester Clark Park, recognizes the site as a California Registered Historical Landmark.
1998 — PAST established its first web page. Quarterly Newsletters continued but the tech age required more a more accessible form of information dissemination.
2000–2017 — At the advent of the twenty first century, extrinsic factors such as diminished volunteerism, skyrocketing real estate values and less governmental support forced PAST to refocus its energies towards advocacy and education.
2004 — To promote common interests, Board member Grace Hinton organized a joint Holiday House Tour on the Stanford campus with the Stanford Historical Society.
2004 — The effort to establish a Palo Alto History Museum was launched when the City accepted the proposal of the History Museum Project Committee to use the City owned Roth Building at 300 Homer Avenue for the future museum. A lease option was signed in 2007. The project to restore and rehabilitate this Birge Clark design was headed by former PAST President Karen Holman—first as a volunteer and later as Executive Director.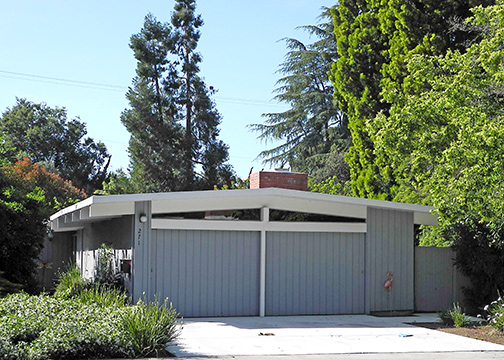 2005 — Joseph Eichler's developments at Greenmeadow and Green Gables were added to the National Register of Historic Places. In 2004, the Green Gables and Greenmeadow neighborhoods had been nominated by the Eichler Historic Quest Committee to become Historic Districts on the National Register. These neighborhoods are among the earliest and least altered of the Bay Area Eichler subdivisions. Joseph Eichler was a real estate developer; known for using highly-respected and progressive architectural firms to create well-designed, yet affordable, houses for middle class families. On March 17, 2004, the HRB reviewed the applications for nomination of both the Greenmeadow and Green Gables neighborhoods. In 2005, the districts were officially added to the National Register. The inclusion of these districts is significant as they are among the first modern suburban tracts to be included on the National Register.
2006–2007 — PAST agreed to hold a covenant for the City of Palo Alto to ensure that the rehabilitation of the Children's Library followed National Register guidelines. Board member Grace Hinton and former PAST President Caroline Willis performed the supervisory work for PAST.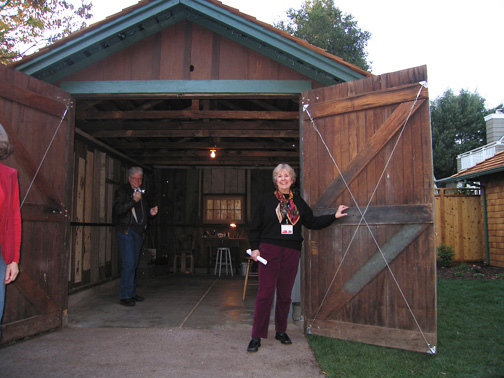 2007 — The Hewlett-Packard Garage was listed on the National Register of Historic Places.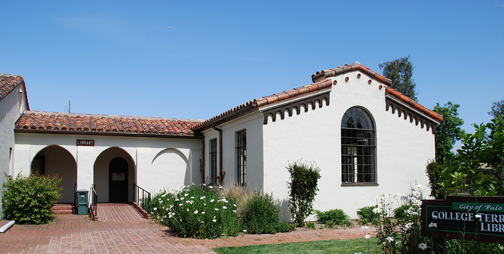 2008 — On the advice of President Grace Hinton, PAST hired a structural engineer to review the City's rehabilitation plans for the College Terrace Library. This resulted in a more sympathetic restoration by eliminating the intrusion of steel beams through the center of the Library.
2008 — PAST member Carolyn George revamped PAST's website expanding the scope of this outstanding resource for homeowners, researchers and preservationists.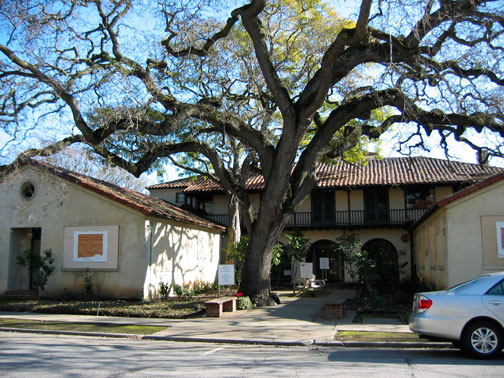 2008–2010 — PAST members Beth Bunnenberg and Carol Murden successfully applied for National Register status for the Roth Building at 300 Homer Avenue, the future home of the Palo Alto History Museum.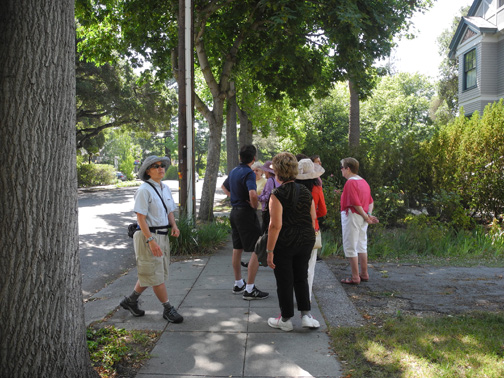 2011 — PAST's original walking tours of Professorville and Downtown had been held only by request since the late 1990's. The Professorville and Homer Avenue tours were reinstituted by Board member Margaret Feuer on a twice-yearly schedule and continue under the supervision of Board member Hayley Stevens.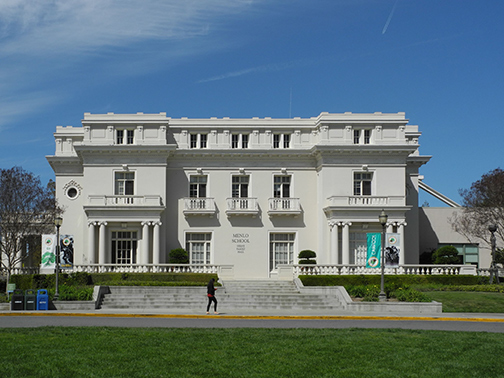 2012 — Beginning in the Fall of 2012, The Daily News began publishing weekly historic house articles written by Margaret Feuer in exchange for free publicity for PAST events.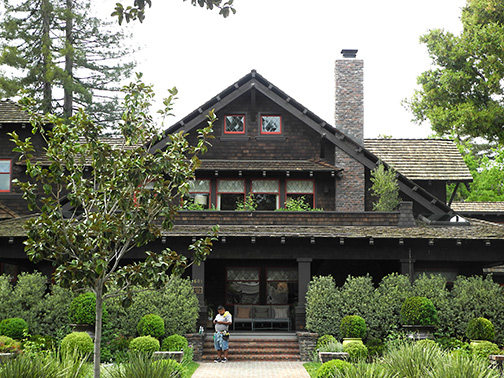 2012 — PAST also began to promote the concept of conservation easements for homeowners as a means to ensure the preservation of historic structures. Owners entering into a conservation easement agreement with PAST receive federal tax incentives and remunerate PAST with a $10,000 supervisory fee. Tom Johnston, attorney and PAST Vice President oversaw this effort. One such easement protecting the exterior and some interior features was entered into with the heirs of 601 Melville Avenue. Because this house and the Squire House are protected by easements, they are the only two houses on the Historic Inventory which are safe from demolition.
2012 — PAST held its 25th Holiday House Tour in the Crescent Park neighborhood.
2015 — Former PAST President Margaret Feuer and member Marilyn McDonald secured National Register status for the 1916 Woman's Club of Palo Alto. This Tudor-Craftsman building was designed by Stanford's former resident architect, Charles Edward Hodges.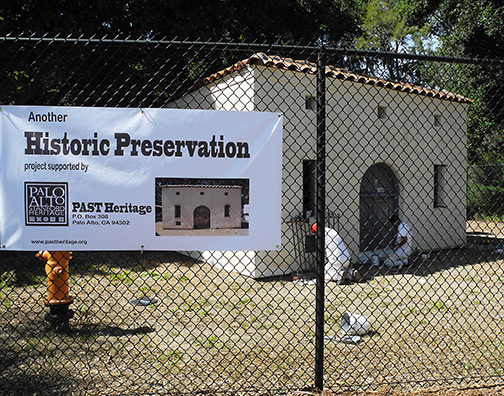 2014–2017 — PAST, during the 2014 – 2017 Presidency of Brian George, concentrated on educating Palo Altans about the importance of historic preservation through its website, Newsletters, and twice yearly walking tours of Professorville, College Terrace, Homer Avenue and Crescent Park. An annual Awards Ceremony during Preservation Month in May presents Centennial houses with a bronze plaque. It also provides recognition of owners, contractors and architects for historic rehabilitation of structures. In addition, it presents Recognition Awards to outstanding preservationists. Most importantly, President Brian George also instituted a series of well-attended lectures on topics related to historical architecture. A final achievement was his rehabilitation of the Hale Street Pump house to its original Spanish Colonial glory.
Afterword:
The achievements of PAST would not have been possible without the support of City Staff and Council members. Among the earliest supporters were Councilpersons Mildred Corcoran, Enid Pearson, Emily Renzel, Byron Sher, Dick Rosenbaum, Kirke Comstock, Ed Worthington, Philip Flint, Robert Debs and Planning Department officials Betsy Crowder, George Zimmerman, Steve Staiger, Nancy Lytels and Dennis Backlund. The most prominent political advocate of historic preservation in recent years has been Councilperson and former Mayor Karen Holman. One of PAST's first docents and President of PAST from 1994 – 1997, Holman has often been the sole Council member with preservation experience. She assumes the role of watchdog for preservation impacts and analysis as part of large environmental analysis (DEIRs) or project specific analysis. One of her outstanding contributions has been to ensure that the SOFA 1 and SOFA 11 Coordinated Area Plans have some of the strongest preservation requirements in Palo Alto. In addition, Holman conceived of and helped draft the expansion of the Transfer Development Rights (TDR) program for city owned and historic buildings which has benefitted the Children's Library, Sea Scout Building and the Roth Building. A unique form of historic preservation was researched and drafted by Holman and subsequently adopted unanimously as a citywide ordinance. It allows an historic property with two historic homes on the same lot to be split off into smaller than otherwise allowed lots in exchange for preservation of the historic homes through preservation covenants.
The Historic Inventory of Palo Alto lists approximately 450 buildings of historic merit, including buildings and four districts listed on the National Register of Historic Places. Additionally, there are 19 sites registered as California Points of Historical Interest, including the "El Palo Alto" redwood tree, believed to be the site of a 1776 encampment of the Portola Expedition. In addition, seven sites or structures are listed on the California Register of Historic Landmarks.
The historical, cultural and architectural foundations of Palo Alto are a living part of our community life. They provide a sense of continuity and orientation to residents. In a wealthy society where dreams quickly become reality, it's easy to dismiss the past as irrelevant. It can be proudly said that PAST that, in its thirty years of existence, has always honored the past through its advocacy for architectural preservation.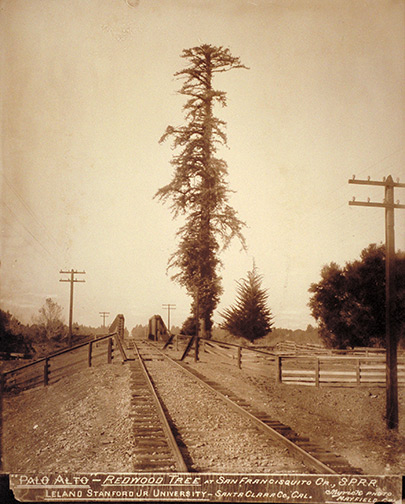 Compiled by Margaret Feuer
---

E-mail us at either webmaster@pastheritage.org or president@pastheritage.org.

Palo Alto Stanford Heritage—Dedicated to the preservation of Palo Alto's historic buildings.