Palo Alto Stanford Heritage
---
---
Palo Alto Historic Buildings Inventory

1525 Webster Street
Centennial Home

Originally 1533 Webster Street and 600 Embarcadero Road
| | |
| --- | --- |
| | |
| Inventory photo circa 1978 | Photo taken April 16, 2023 |
The following is from the Historic Buildings Inventory as revised in 1985:
Physical appearance:  A one-story Spanish Colonial Revival house, carefully sited on its corner lot, and set off by well-planned landscaping.
Significance:  A good California Colonial Revival design by the city's best-known practitioner of the mode. Birge Clark owned and occupied the house until 1936. Jewell A. and Helen M. Roberts were the next owners (1938-1949). He was manager of Burrows Adding Machine Co.
From 1950 to 1957, it was occupied by Bruce S. Gibson, owner of the city's well-known Gibson's Shade Shop.
Since 1963, Col. David Y. Nanney has been the owner. [1985] This house was built in 1922 and is a Category 4 on the Historic Buildings Inventory. The architect was Birge Clark and the builder was The Minton Company. The property measures 126.4 150 by feet.
Photos taken April 16, 2023:
Photo taken April 17, 2018:
Photos taken February 28, 2016: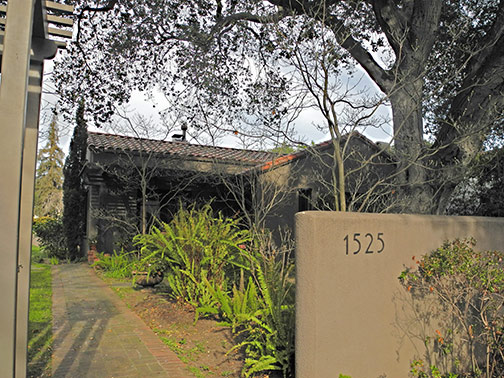 Walkway photo taken August 24, 2012:
Photo taken October, 2012 of house front and bricks for walkway: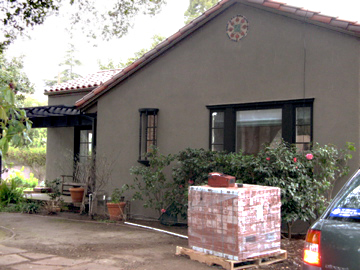 Location map:
Sources: Palo Alto City Directories; Palo Alto Times2/28/22, 4/3/22, 2/4/52; interivew 1985, Birge M. Clark, Patricia Becker
---

E-mail us at either webmaster@pastheritage.org or president@pastheritage.org.

Palo Alto Stanford Heritage—Dedicated to the preservation of Palo Alto's historic buildings.