Palo Alto Stanford Heritage
---
---
Palo Alto Historic Buildings Inventory
212 Fulton Street
Inventory photo
The following is from the Historic Buildings Inventory as revised in 1985:
Physical appearance:  In this simple stucco Craftsman bungalow, the unsupported roof expanse creating the covered porch provides a dramatic feature and expresses the horizontality so often a key element to such designs of the era. A second-story dormer window extends from the broad roof of the facade. varied horizontal wooden elements add design interest.
Significance:  A fine example of the Craftsman image and an important background building in the neighborhood, which includes both Craftsman and Mission Revival styles of the early 20th century. It was purchased late in 1919 by J. B. Kinkaid, and occupied from 1925 – 1943 by Mrs. Josephine Lynn and Mrs. L. L. Schofield. Mrs. Lynn was the widow of Edgar Lynn and reached Palo Alto in 1901; Lynn was a partner in the early grocery firm of Earle & Co.
From 1944 – 1953 it was the home of Hugh D. and Meredith Hefta, and during the following decade, of Burrl D. Benner, a recreation specialist at the Veterans Hospital. It became the home of Charles L. and Betty Swezey in 1969.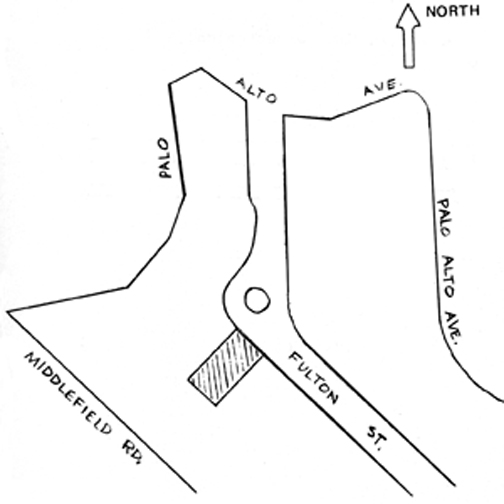 Location map
This house was built in 1919 and is a Category 4 on the Historic Buildings Inventory. The architect and builder are unknown. The property measures 60 by 100 feet.
Sources: Palo Alto City Directories; Palo Alto Times 11/4/19, 10/5/23, 7/17/36, 1/23/50
---

E-mail us at either webmaster@pastheritage.org or president@pastheritage.org.

Palo Alto Stanford Heritage—Dedicated to the preservation of Palo Alto's historic buildings.