Palo Alto Stanford Heritage
---
---
Palo Alto Historic Buildings Inventory
800 – 818 Emerson Street
Saint Michael's Alley (original location)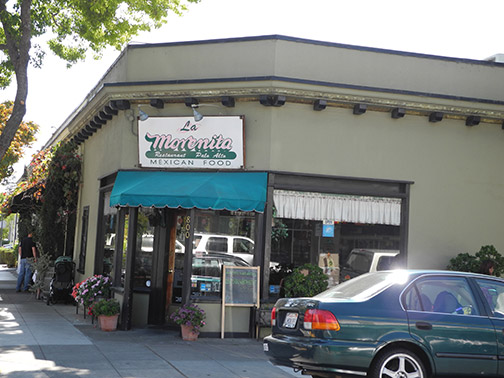 Photo taken Septemer 22, 2012
The following is from the Historic Buildings Inventory as revised in 1988:
Physical appearance: This stucco clad, one-story commercial structure, even though modified, plays an important role in the Homer street-scape. The building is undecorated except for a heavy horizontal wood trim line applied below a parapet at roof level. The main entrance is diagonal to both Homer and Emerson, several small windows on Emerson and a large sliding garage door at 812 Emerson. the windows at 818 Emerson were installed when the laundromat occupied the building. Before that, there was an oversized sliding garage door and a loading dock at the rear of the space.

800: St. Michael's Alley restaurant; 806: St. Michael's Waiting Room; 812: storage; 818: warehouse.

Significance: This structure is expressive of the scale and era predominate in this neighborhood. The Cashels, whose home and plumbing ship still stand at 201 and 200 Homer Avenue, respectively, had this building constructed on a site which since the early 1900s was occupied by the Dudfield Lumber Co. yard and buildings.

From 1940 onward, there usually has been a restaurant or coffee shop in part of the building. The Willman–Carrie carpet cleaning firm came in 1944 and was located there until the early 1980s. A self-serve laundry or laundromat appeared in the 1950s, re-locating from an earlier University Avenue site.
This house was built in 1923 and is a Category 4 on the Historic Buildings Inventory. It was added in 1988. The Cashel Brothers were the builder and owner. The property measures 112.5 feet by 56.5 feet.
Sources: Palo Alto City Directories; Palo Alto Times 2/1/23, 5/4/44
---

E-mail us at either webmaster@pastheritage.org or president@pastheritage.org.

Palo Alto Stanford Heritage—Dedicated to the preservation of Palo Alto's historic buildings.