Palo Alto Stanford Heritage
---
---
Palo Alto Historic Buildings Inventory
624–640 Emerson Street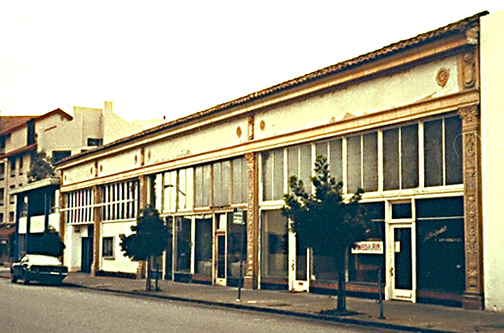 Photo taken circa 1986
The following is from the Historic Buildings Inventory as revised in 1988:
Physical appearance:  This one story commercial block contains five concrete framed bays. the frame is richly embellished by blue and cream terra cotta panels. They form pilasters with classical motifs capped by capitols with gargoyles. the spandrels panels are adorned with medallions and lion and shield motifs. Clerestory windows above the flush store front windows are doors are divided by spindled wood trim.

Significance:  This simple, but well–scaled and detailed complex is an essential historic element of this block, complementing the variety of historic building s across the street. The storefronts are a fine example of the use of terra cotta art found in few other buildings in Palo Alto.

Built for the Palo Alto Improvement Company, it was occupied in the beginning by Sherman Awning Company and by the shop of William A. Courtney (autos). The Awning Company continued to occupy it through the 1960s and the printing shop of Neilson & Son came in the mid–1930s.

Various auto sales, service, and parts firms used the building in the decades from 1924 to the 1980s (Courtney, Olson Motor Sales, Auto Enamel & Metal Works). Between 1955 and 1965 the Premier Photo Engraving shop and the Jasmin Photo Studio were at 624 Emerson as was Richard Elmore, Design in the late 1980s. The Richard Sumner Gallery was at 628 and Neilson & Son printers were at 632, Sophie's Choice at 636, and the Bijou Theatre occupied 640 Emerson in 1965. Other businesses included the Metro Home Furnishing establishment and the Leather Works in the 1970s and early 1980s.

The most recent occupant of 640 is the Gordon Biersch Brewery, which opened in 1988.
This building was built in 1924 and is a Category 3 on the Historic Buildings Inventory. The builder was Wells P. Goodenough. The property measures 125 by 102.5 feet.
Sources: Palo Alto City Directories; Palo Alto Times 4/19/24
---

E-mail us at either webmaster@pastheritage.org or president@pastheritage.org.

Palo Alto Stanford Heritage—Dedicated to the preservation of Palo Alto's historic buildings.