>

Palo Alto Stanford Heritage
---
---
Palo Alto Historic Buildings Inventory
1621 Castilleja Street
Originally 321 Castilleja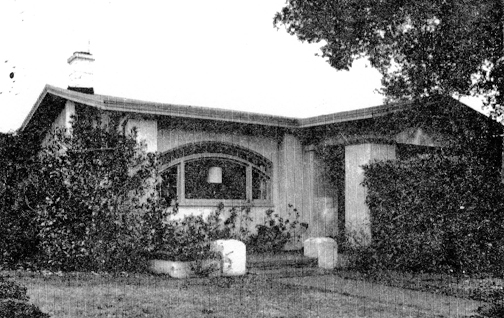 Inventory photo taken in 1978.
The following is from the Historic Buildings Inventory as revised in 1984:
Physical appearance:
Careful scale and sophisticated composition characterize this small Craftsman Prairie–style house. Brick articulation of pier tops and a boldly treated arched window are principal decorative features.
Significance:
This is an excellent example of a design type associated primarily with California. The district in which the house is located was purchased by Mrs. Jane Lathrop Stanford from Henry Seale. She vested title in the University. When the land was put on the market, the Palo Alto Development Company was organized to purchase and develop it as a restricted residential neighborhood, Southgate. Principals were A. W. Edwards, M. H. Tichenor, and the Shattuck Construction Co. (San Francisco, Los Angeles). Soon the project was sold to M. V. D. McAdam Co., a large Northern California real estate firm, and the sales agent became the firm of Mark A. McCann. The well–advertised restrictions included a $4,000 minimum building cost, uniform set–backs and fencing heights, prohibition of stables and poultry runs, limitation of apartments, garages, and shops that could be built, and exclusion of black and Oriental residents. The first house was completed in 1923 on Escobito Street for M. H. Tichenor.

The house at 1621 Castilleja was built in 1925. Its first occupant, F. W. Goss, was in the automobile business; its second, H. Frederick Blichfeld, was on the Stanford mathematics faculty.

From 1930 to 1935, it was the home of Conrad and Alta Lazzareschi. A native of Lucca, Italy, Lazzareschi came to San Francisco in 1909, where he went into the grocery business, then moved to Palo Alto in 1925. Here and in Menlo Park, he owned the University Quality Market and Lazzareschi Meat Co. for a quarter–century. Mrs. Lazzareschi was co–founder of the Palo Alto Humane Society and the Palo Alto Society for the Blind. She also served for several years as a coordinator of the San Mateo County Cancer Crusade.

Subsequent occupants included A. M. Henriksen (1936–44), Robert W. Lewis (1946–1952), an employee of American Trust Co., Mrs. Margaret Moffett (1959–1966), widow of retired Army officer Charles Moffett, and directory for 17 years of food services for Varian Associations; and, since then, the present owners, Fletcher and Joan Johnson. [1985]

Location map
This house was built in 1925 and is a Category 4 on the Historic Buildings Inventory. The builder was J. E. Qualls. The property measures 60 by 100 feet.
Sources: Palo Alto City Directories; Palo Alto Times, 10/17/22; 2/24, 9/13,9/22/23; 10/6/25; 3/23/26, 1/3/27, 12/4/51, 3/1/69, 8/21/70, 11/4/75, Guy C. Miller, Palo Alto community Book, p. 277–278
---

E-mail us at either webmaster@pastheritage.org or president@pastheritage.org.

Palo Alto Stanford Heritage—Dedicated to the preservation of Palo Alto's historic buildings.