Palo Alto Stanford Heritage
---
---
Payne Douglass Mansion, Part I — circa 1909–14
2128 Valpariso Avenue, Menlo Park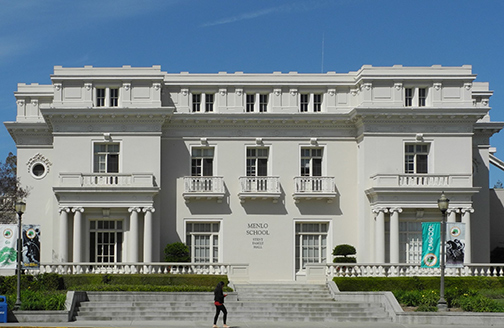 One of the first houses in California to be constructed entirely of reinforced concrete, 2128 Valparaiso was built for the mining heiress Mary O'Brien Payne and her husband, Theodore Fryatt Payne. The house was subsequently owned by the inventor Leon F. Douglass and his family. Theodore Payne (1845–1907) came to California in 1861 and amassed a fortune as the owner of the Payne Bolt Works of San Francisco. In 1880, he married Mary Pauline O'Brien who, two years prior, had inherited $300,000 from her bachelor uncle William S. O'Brien, one of the Comstock Lode silver kings. Her inheritance carried the stipulation that it "not be controlled by any future husband." After the 1906 earthquake, the Paynes decided to build a country house on their fifty acre Peninsula property, which had originally been part of the 640 acre Atherton estate. William F. Curlett was chosen as the architect. The Paynes' imposing, stick-style house at 1409 Sutter Street in San Francisco had been designed by Curlett in 1881.
1409 Sutter Street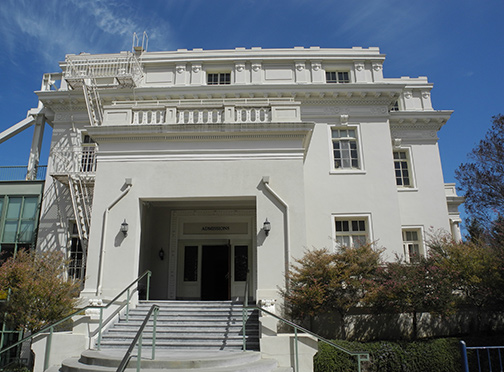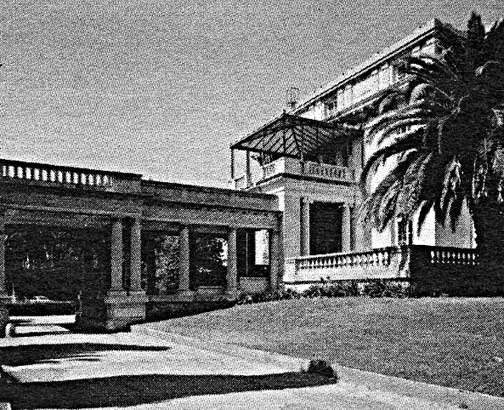 William Curlett (1845–1914) emigrated from Ireland to San Francisco in 1871. Initially working as a draftsman for Thomas J. Johnston, he became his partner two years later. By 1877 Curlett joined Augustus Laver's firm and designed the extravagant Linden Towers in Menlo Park for James Clair Flood. Laver & Curlett also designed William S. O'Brien's mausoleum, which Oscar Lewis claimed was "long unrivaled, despite stiff competition, for sheer ugliness in the field of cemetery architecture." Curlett's nationality brought commissions from wealthy fellow countrymen, such as Montalvo for James D. Phelan, a Nob Hill mansion for William Crocker and a Broadway residence for James Flood. One of the most prolific architects on the Pacific Coast in the final decades of the 19th and the first decade of the 20th century, his buildings, both public and private, can be found throughout California. His versatility and skill as an architect enabled him to adapt all styles to his own design. Far earlier than his contemporaries, he designed buildings with hot and cold running water, advanced plumbing, central heating and machine–made hardware. As with the Valparaiso Avenue mansion, he did not shy from the unusual.
Delays plagued the start of construction of the Paynes' $100,000 mansion until July 1909 for several reasons: Theodore Payne's death in 1907, complex construction details and Pauline Payne's European jaunts for furniture and artifacts. The job, when begun, brought employment to many; even the lumber used for the concrete forms was re-used on construction sites throughout Menlo Park. The Italianate architectural style designed by Curlett for the Paynes was one of the most popular to sweep North America. Its nearly flat roofs, wide eaves and massive brackets suggested the romantic villas of Renaissance Italy visited by Mrs. Payne during her trips abroad. A natural choice for upscale homes of the nouveau riche, it was also compatible with steel and concrete construction.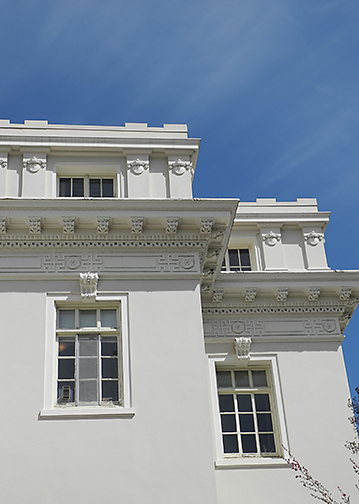 The three–story house with full basement had over 170' of bay windows. An elaborate modillioned cornice between the second and third floors and a smaller cornice and parapet above the third floor accentuate the lines of the flat roof. Concrete balconies at the second-floor windows add an inviting touch to the façade. The main entry, through a massive columned porte cochere, had marble stairs leading to a bronze and plate glass door decorated with delicate iron grillwork.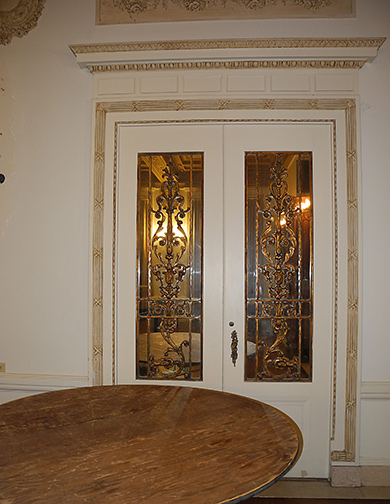 The mansion's interior contained over 50 massive and elegant rooms. The main salons boasted oak parquet floors, many with intricate designs. Throughout the house, there were carved marble mantels and elaborate ceiling ornamentation, often with colored and gold leaf designs. The mansion's great hall had unusual window shades: sliding screens ornamented with graceful grillwork similar to that found on the wrought iron balustrade of the central staircase. Main rooms on both the first and second floor were paneled in oak. Bedrooms were arranged in eight luxurious suites and were intended as permanent homes for Mrs. Payne's children and their families. None ever lived with her.
By the time Mary Pauline Payne moved into her house in the summer of 1914, it represented an investment of $750,000. No expense had been spared, with custom–made furniture from Europe designed to match the interior of each room. Imported fixtures, both electrical and gas, were used. Spacious lawns, a swimming pool, tennis courts, a golf course and gardens filled with varieties of trees and shrubs added to the breathtaking effect. Mary Payne enjoyed her mansion for only seven years when she sold it for $600,000. She died in New York City in 1921. The story of the purchaser, the prolific inventor Leon Forrest Douglass will continue in a following article.©

© Margaret Feuer
PAST, March14, 2014
---

E-mail us at either webmaster@pastheritage.org or president@pastheritage.org.

Palo Alto Stanford Heritage—Dedicated to the preservation of Palo Alto's historic buildings.