Palo Alto Stanford Heritage
---
---
433 Kingsley Avenue

What does the famous line of poetry , "A Rose is a rose is a rose….", have to do with a 113 year old house in Palo Alto?
433 Kingsley was built in 1889 for Joseph and Kathryn Kellogg Hutchinson who owned the entire block on which their house stood. Old photos show a wide sweep of lawn and a palm–lined circular drive which curved past the tennis courts, coachman's quarters and outside kitchen.
Mr. Hutchinson was a familiar sight driving his buggy to the Southern Pacific depot to commute to his San Francisco law office. "A prime mover in Palo Alto", he was the first president of the Palo Alto Improvement Club which brought plank sidewalks, gravel streets, water works and electricity to the pioneer town. He was elected Mayor of the newly incorporated City in 1894. Kathryn Hutchinson was a founding member and President of the Palo Alto Women's Club from 1898–1899 as well as a charter member of the Presbyterian Church.
In 1935, the house was purchased by Michael and Sarah Stein. Mr. Stein, an art critic, was the brother of Gertrude Stein who lived with her brother on several occasions. Gertrude, of "a rose is a rose is a rose" fame, lectured at Stanford University in 1935. The Steins, according to the current owner, gave away Picasso sketches to their guests. Aline Saarinen, wife of Eero Saarinen, wrote that Sarah Stein was "the really intelligent, sensitive member of the family."

Albert and Agnes Robinson owned 453 Kingsley from 1954 to 1970. Mrs. Robinson was a member of the Palo Alto School Board and of the State Community College Board of Trustees. The current owners have opened their house to charitable and political events since 1994.
The Hutchinson House is an exceptionally elegant fusion of 19th century forms and motifs. The gambrel roof is typical of Dutch Colonial while the abbreviated corner tower, the turret of which was lost in the 1906 earthquake, is Queen Anne. The semi–circular portico, added in 1903, and the front door are Colonial Revival.
Some interior remodeling has been done, such as building an interior kitchen and converting servants' quarters to more contemporary uses. Yet, grand scale and elegant finishes are seen throughout the house: a library with a coved redwood ceiling and a Batchelder tile fireplace, decorative redwood ceiling beams in the dining room, original moldings and doors, and brass escutcheons and glass doorknobs. There is even a telephone niche harking back to the days when phone conversations were private and non-cellular. We must not forget: a buzzer is conveniently located near the servants' quarters so that Gertrude and other visitors could summon the help.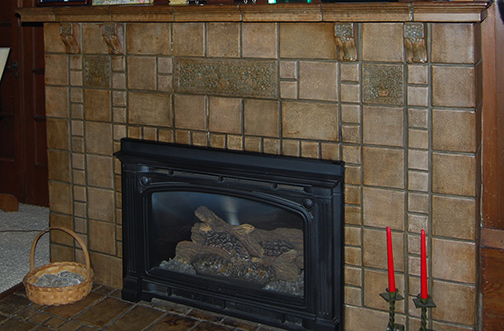 433 Kingsley was the stately matriarch of the area in 1892. It has been lovingly tended to by generations of owners. Today, it is part of Professorville, Palo Alto's first National Register District. ©

PAST, September 7, 2012
---
E-mail us at either webmaster@pastheritage.org or president@pastheritage.org.

Palo Alto Stanford Heritage—Dedicated to the preservation of Palo Alto's historic buildings.